How can Omega 3 be obtained?
FOOD CONTAINING OMEGA 3
Sources of omega 3 in the diet: What foods are richer?
Omega 3 is the most remarkable essential fatty acid because of its deficit in the current nutrition.
In general, it is easier to get enough dietary intake of omega-6 than omega 3. This is because the richer omega 3 foods are even richer in omega 6. To see the benefits of omega 3 is necessary to make a balance between these two types of fats.
An excess of omega-6 (fried food, pastries, chips, snacks, precooked, etc.) slows the benefits of omega 3
Foods rich in omega 3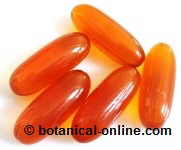 Photo of fish oil beads. Omega-3 supplements are given in pearls format because this format allows its conservation and dosage better.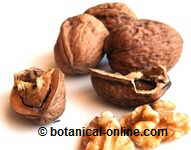 Walnuts are rich in omega-3.
The main sources of omega 3 are:
ANIMAL FOOD
– Fish oil , widely used in supplementation of omega 3, but it has the disadvantage of having a strong odor.
– Fish, particularly oily fish like salmon, tuna or anchovies.
– Seafood
PLANT FOOD
– Vegetable oils of some seeds such as flaxseed, walnut, canola and olive oil.
– Seeds: flaxseed, walnuts and chia seeds
– Algae
– Legumes: Soya, chickpeas, lentils, etc.
– Vegetables: purslane, spinach, lettuce
– Fruits, such as avocados or strawberries.
Table of contents in Omega 3 (ALA, EPA and DHA) food *

per 100g

Food

ALA

(g)

EPA

(g)

DHA

(g)

Food from the sea

Fish oil, sardine

–

16

10

Fish oil, salmon

–

1

8,8

Fish oil, cod liver

–

0,7-1

9-12

Fish, pollock

–

0,1

0,4

Fish, Atlantic mackerel

0,1

0,9

1,6

Fish, carp

0,3

0,2

0,1

Fish, anchovies

–

0,5

0,9

Fish, herring

0,1

1

0,7

Tuna, bluefin tuna

–

0,4

1,2

Fish, dogfish

0,1

0,7

1,2

Crustaceans, crab

traces

0,2

0,2

0,8

Seed oil

53,3

Currant oil

19-20

Walnut oil

10,4

Canola oil

9,3-12

0,5-0,6

Seeds

Grains

8,35

3,2

0,6

0,1

Vegetables

Peanut leaf

49

4,05

0,01

0,89

0,7

0,48

0,001

Broccoli and cauliflower

0,1

Fruits

0,1

0,1

0,1
Which is the best source of omega-3?
The best source of omega 3 are fish and seafood, because these sources contain EPA and DHA directly, essential fatty acids resulting from the metabolivided in the body of omega 3 fats.
Since they are provided by the food, it is not necessary to metabolize them in the body, or compete with the omega-6 to be synthesized, so that the body uses them directly.
It is important to have a balance between omega 3 and omega 6
*Related information:
– Balance between Omega 3 and omega 6


More information on essential fatty acids in the listing
This article was endorsed by
Elisenda Carballido
- Dietitian nutritionist. Postgraduate in Phytotherapy and master in Nutrition and Metabolism.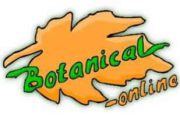 Written by
Editorial
Botanical-online team in charge of content writing