CHARACTERISTICS OF LINSEED OIL PROPERTIES
What is flaxseed or linseed oil?
Flaxseed oil or linseed oil is an oil which is extracted from flaxseed or flaxseed meal (Linum usitatissimum) by cold pressing extraction process.
Cold extraction ensures that the oil retains all its properties and vitamins.
What does linseed oil contain?
Flaxseed oil is rich in omega 3 and especially alpha-linolenic acid (ALA), because flax seed is one of the richest in this type of vegetable fat.
Therapeutic properties of flaxseed oil
Alpha-linolenic acid (ALA) is one of the essential fatty acids needed by the body for proper functioning of the brain and heart.
This type of omega 3 fats are found in high concentrations in the nervous system, and also exert anti-inflammatory functions in the body, being very important in cases of inflammation, arthritis, etc.
Incorporating flaxseed oil in our diet is the best way to provide our body with high amounts of ALA (omega 3), since the oil content exceeds that of seeds or flax meal.
While the proportion of the latter is usually 18% of its total weight in the case of linseed oil, the ratio of omega 3 reaches 58%.
LINSEED OIL BENEFITS
Internal use preparations with linseed oil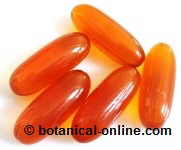 Linseed oil or flaxseed oil is an anti-inflammatory oil. It is sold in pearls supplements containing the oil inside. The oil pearls format allows a best dosage and conservation.
Linseed oil for the treatment of pain
Flaxseed oil is also used in internal use for the treatment of pain for its anti-inflammatory properties. The usual dose is 3 tablespoons per day or 1,500 to 2,000 mg. pearl oil per day. It is useful, for example, in the treatment of:
Rheumatic pains
Carpal tunnel syndrome
It has been found that the omega-3 has anti-inflammatory properties. Therefore, food, or, especially supplements, can be very suitable to reduce inflammation and relieve pain in diseases such as rheumatoid arthritis, psoriasis and lupus.
The antiinflammatory properties of omega-3 can be used to treat inflammatory bowel diseases as Crohn's disease or ulcerative colitis.
Flaxseed oil to improve circulation and heart health
The intake of foods rich in Omega-3 or supplements containing this principle is tremendously advantageous for circulation. It is known that lowering triglycerides and cholesterol prevents formation of clots in the arteries because this prevent platelet aggregation and decreases slightly hypertension.
In general, Flaxseed oil thins blood and protects against heart attacks, strokes, angina pectoris, Raynaud's disease, etc.
Inclusion of foods or supplements rich in this component protects against the development of certain cancers, especially colon cancer, prostate cancer and breast cancer.
Linseed oil for nerves
Omega 3 is very important for the central nervous system, as it is in high concentration in them, as part of neurons and chemical transmissions. Ingestion of these acids can help maintain mental balance and prevent or improve depression, hyperactivity, or assist in the treatment of diseases such as schizophrenia.
It is very suitable for headaches, migraines, dementia, Parkinson's or Alzheimer's, but also for eye health because the Omega 3 is necessary for the correct formation of the retina.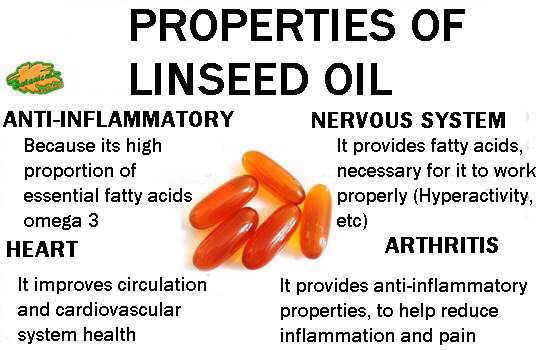 Properties and benefits of flaxseed oil. Produced by © Botanical-online
External use remedies with linseed oil
Flaxseed oil is mainly used in external use for skin problems. For external skin care ointments are primarily used with linseed oil. The oil is applied to the affected area. Among the many applications, we could mention the following:
Burns: Flaxseed oil has proven to be one of the best remedies for healing burns. Applied to the skin, it has the ability to prevent infections and promote skin regeneration. (Apply linseed oil, diluted in water, on the affected area, then cover it with a clean bandage)
Hair loss: Flaxseed oil for hair is one of its main applications. To stop hair loss you can do the following: make a lotion daily with flaxseed oil diluted in the same amount of water on the scalp.
Skin Care: The linoleic and linolenic acid containing are active cosmetic components, that, externally applied, lubricate the skin and form a greasy film that prevents dehydration, thus preventing wrinkles appearance and problems such as dry skin or eczema.
Where to buy flax oil?
Flaxseed oil is purchased in specialty stores. We must distinguish between industrial linseed oil and that used as medicinal. The first is toxic and should not be ingested.
Keep in mind that flaxseed oil is a food supplement, so you should not abuse it. Being a fat, it can contribute to obesity. In addition, eating too much flaxseed oil may cause diarrhea.
How much flaxseed oil can we eat and how can we take it?
According to most nutritionists, the daily recommended dose of Omega-3 is between 1.1 grams per day for women and 1.6 grams per day for men. The latter amount is what gives us half a tablespoon of flaxseed oil daily.
Linseed oil has the same medicinal properties as linseed, although it is used in a different way. Flax seeds are mainly used in cold or boiled infusions for at least 10 minutes.
Food properties of flaxseed oil
Flax oil composition
100 g.
Flaxseed oil contains 9% saturated fatty acids, 18% monounsaturated and 73% polyunsaturated.
Of the latter, 53% is alpha-linolenic fatty acid (omega 3) and 16% is linoleic acid (omega 6).
Therefore, flaxseed oil is very rich in Omega 3 which is part of the alpha-linolenic acid, and rich in Omega-6.
This oil should be taken cold so it can be added to salads or vegetables, add at the end of the preparations, or combined with some bread with tomato.
How to store flaxseed oil?
Unlike flax seeds, flax oil deteriorates easily in contact with air and at room temperature. This rancidity results in a loss of its qualities and carries a bad smell and taste.
To avoid this and to prevent the development of linamarin toxin, means of cold pressure are used to extract it. Once extracted, it is stored in airtight, dark containers so as light or air not to not spoil it. In our house, once opened, it should be stored in the refrigerator in the same container, tightly closed.
Flaxseed oil should never be fried since high temperatures destroy polyunsaturated fatty acids, transforming their properties and providing odor problems and bad tastes, and generating many free radicals.
Toxicity and contraindications of flax oil
In general, and with an adequate intake, flaxseed oil is a healthy and safe product. However, it is necessary to consider a number of precautions:
Never eat industrial flaxseed oil because it contains toxic principles (cyanogenic glycosides).
Useing flaxseed oil externally can cause skin reactions if it is too old and has become stale, so you are advised to keep the oil in the refrigerator in a dark, airtight container.
People suffering from obstruction of the esophagus, intestine or pylorus should not take flaxseed oil.
People with thyroid problems should not take flaxseed oil, because they can promote the development of goiter.
The ingestion of this supplement may impair the absorption of drugs, including insulin from diabetics making it to be absorbed later.
Flax preparations should not be given to people who are taking medications without the consent of the doctor or specialist.
Flaxseed oil must be purchased in health food stores or pharmacies, using that which has been produced by suitable methods that inhibit enzymes that cause the release of hydrocyanic acid. You should read carefully the instructions for use.


More information on oily fish and omega benefits.
This article was endorsed by
Elisenda Carballido
- Dietitian nutritionist. Postgraduate in Phytotherapy and master in Nutrition and Metabolism.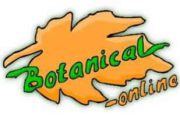 Written by
Editorial
Botanical-online team in charge of content writing