Importance of the relation Omega 3 and Omega 6
HOW TO BALANCE OMEGA 3 AND OMEGA 6: PROBLEMS OF BEING UNBALANCED
What are Omega 3 and Omega 6 fats?
Omega 3 and Omega 6 are a type of very important fats because they are essential fats, that is to say, our body can not manufacture them and, therefore, they must be provided through food.
When we talk about Omega 3, we refer mainly to a fatty substance called linolenic acid, while the name Omega 6 is known as linoleic acid.
Functions of Omega 3 and Omega 6
– The Omega 3 fats are found in the body in high concentrations in the brain and nervous system, which specifically focus on the retina and cerebral cortex. Supplementation with Omega 3 has improved many mental disorders like insomnia, stress or anxiety, and has been shown that some psychological disorders, such as inattention or hyperactivity in children, are symptomatic of a lack of Omega 3 in the diet.
Moreover, these fats are antithrombotic and antiarrhythmic, important in the prevention and treatment of cardiovascular diseases.
– Omega 6 fats also have cardiovascular protective and anti-inflammatory effects, although an excess of this type of fat produces inflammatory substances.
– More information about the characteristics of Omega 3 and Omega 6.
Importance of the balance between Omega 3 and Omega 6 in the diet
The most important balance between these two types of fats is to understand that the body can not metabolize Omega 3 and Omega 6 at a time, so they compete with each other.
One of the benefits of omega 9 is not interfering with the metabolism of Omega 3,
unlike Omega 6 present in seed oils. Therefore, the consumption of olive oil (rich in Omega 9) is recommended against sunflower oil (rich in Omega 6).
So. an excess of one type of fat inhibits the synthesis of the other. Generally the fat in excess is omega-6, because it is more present in our food (vegetable oils, fried,…), preventing the Omega 3 fats to be metabolised.
Instead, when we supplement the diet with foods rich in Omega 3, this fat moves the Omega 6 from tissues and exerts its therapeutic action: vasodilator, antiarrhythmic and antithrombotic.
The ancestral balanced diet
Often it is interesting to remember where we come from to understand the metabolism and the reactions of our body, because they are governed by the genetic code that collects information from thousands of years of evolution.
In the case of fats, they play an important role in the development of the human being, the most intellectual animal on the planet.
The origin of man goes back in West Africa. In that area, the diet was very rich in fish (rich in Omega 3, EPA and DHA), for then fishing was more affordable than hunting, although abundant wild plants were consumed. It is estimated that the diet contained a ratio of Omega 6 and Omega 3 to 1: 1 or 2: 1.
In fact, researchers attributed the high intake of Omega 3 fatty acids with the increasing brain size and intelligence, corresponding to the birth of homo sapiens.
However, the current diet is very different from the diet of our ancestors. Because of dietary habits promoted by the food industry, our diet had an increased consumption of saturated fats and cholesterol, from animal sources (meat, lard) and dairy products (butter); to the detriment of the consumption of fish, nuts, vegetables and wild plants.
Pastries, cakes, bread, chips: Soon the negative effects of saturated fats on the cardiovascular system were discovered and replaced with vegetable oils, fats rich in Omega 6. The industry offers plenty of very fatty products, rich in Omega 6 is found bag, popcorn bag, precooked, etc.
Although, from organizations consumption of Omega 3 is boosted, through a balanced fat diet with fish, legumes, nuts, whole grains and abundant consumption of vegetables, Omega 3 intake among the population remains insufficient.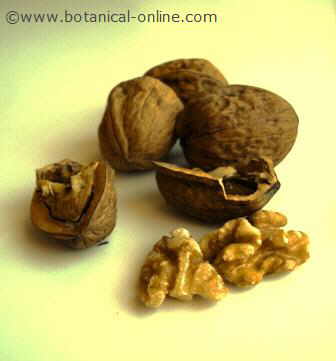 Photo of walnuts, a very important source of Omega 3
Currently the ratio of Omega 6 and Omega 3 of the population is 12: 1 (It has even considered about 20: 1), very diverted away from the desirable values ​​4: 1 or 2: 1, according to official recommendations of the FAO / WHO.
Consequences of the imbalance between omega 6 and omega 3
This imbalance increases the risk of cardiovascular disease and other psychological disorders that affect a large part of the population, such as depression, violence, hyperactivity, poor concentration, anxiety or insomnia; related to shortage of Omega 3.
Similarly, new research sources suggest that diets of animals affect the quality of their fat. For example, if fed with Omega 3 fatty acids, chickens, eggs have a higher content of this fat. The same applies to cows and the quality of their milk fat. In this direction, it is pretended to increase the intake of Omega 3 in a population that does not eat enough fish, seeds, legumes and vegetables.
To mitigate the effects of excess Omega 6 and saturated fats, consumption of olive oil is also promoted. Olive oil does not interfere with the metabolism of Omega 3 and Omega 6 fats, and is beneficial to prevent cardiovascular disease.
Tips to increase the contribution of Omega 3 in the Diet
– Eating a balanced diet. So important is the quality as the quantity of the overall diet. Do not overindulge in fried (albeit with olive oil), industrial products and vegetable oils.
– In each meal a good supply of vegetables and / or fruits should be present. They are vital to regulate body fat through the fiber containing, besides providing vitamins and minerals that prevent oxidation (aging or "staling") of fats within the body.
Some vegetables also contain certain amounts of Omega 3 as purslane, spinach, broccoli, cauliflower, lettuce, strawberries, raspberries and avocado.
– Dressing and cooking with olive oil. Olive oil has beneficial properties for the heart and is the best oil that can be consumed to balance the Omega 3 and Omega 6 fats.
– Eating fish two to four times a week, or failing that, marine products. Specifically oily fish, such as sardines, salmon, herring and tuna have a higher content of EPA and DHA, a type of very healthy Omega 3 fats. The alga Spirulina also contains a certain amount of Omega 3.
– Eat vegetables at least 2 times a week: chickpeas, beans, lentils, soybeans and derivatives,… Paradoxically, these foods are consumed less everyday despite it is also being discovered that they possess more virtues. Legumes help improve memory, lower the bad cholesterol (LDL), increase good cholesterol (HDL), are rich in fiber, vitamins and minerals.
– A serving of nuts or seeds daily. Walnuts, chia seeds and flax seeds are important sources of Omega 3. Using these foods as a condiment in salads, vegetable dishes and soups can help increase Omega 3 dietary fat.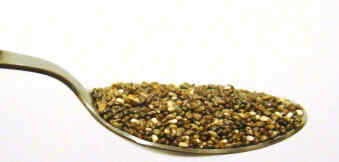 Image: chia seeds. A teaspoon of chia seeds can help balance our diet because of the high content of Omega 3 of this food.
– Quinoa is a pseudocereal rich in Omega 3. We can combine weekly in our diet as a source of essential fats and proteins of high biological value.
Foods rich in Omega 3
Table of contents in Omega 3 (ALA, EPA and DHA) food *

per 100g

Food

ALA

(g)

EPA

(g)

DHA

(g)

Food from the sea

Fish oil, sardine

–

16

10

Fish oil, salmon

–

1

8,8

Fish oil, cod liver

–

0,7-1

9-12

Fish, pollock

–

0,1

0,4

Fish, Atlantic mackerel

0,1

0,9

1,6

Fish, carp

0,3

0,2

0,1

Fish, anchovies

–

0,5

0,9

Fish, herring

0,1

1

0,7

Tuna, bluefin tuna

–

0,4

1,2

Fish, dogfish

0,1

0,7

1,2

Crustaceans, crab

traces

0,2

0,2

0,8

Seed oil

53,3

Currant oil

19-20

Walnut oil

10,4

Canola oil

9,3-12

0,5-0,6

Seeds

Grains

8,35

3,2

0,6

0,1

Vegetables

Peanut leaf

49

4,05

0,01

0,89

0,7

0,48

0,001

Broccoli and cauliflower

0,1

Fruits

0,1

0,1

0,1
* The abbreviation stands for alpha-linolenic acid (ALA), eicosapentaenoic acid (EPA) and docosahexaenoic acid (DHA), the three types of Omega 3 fats in the world.
EPA and DHA fats are found in oily fish, while vegetables contain ALA.


More information on essential fatty acids in the listing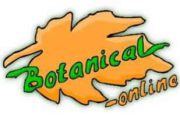 Written by
Editorial
Botanical-online team in charge of content writing