Preparation of alove vera
HOW TO PREPARE ALOE VERA GEL AT YOUR HOME
Aloes and aloe gel
– From aloes two compounds for the development of medicinal products are used: aloe and aloe gel
– Aloe gel is a white, gelatinous substance suitable for topical use, rich in mucilage.
– Aloe or aloe latex is a bitter yellow substance that is immediately after the skin of the leaves.
– The bitterness of aloe latex can be irritating to the skin and must be removed. Aloe latex has not to be confused with aloe gel.
How can you extract aloe gel from aloe leaves?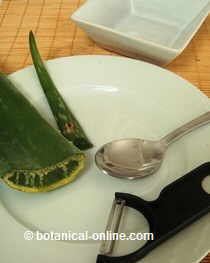 Tools needed: knife, spoon, bowl and aloe leaf.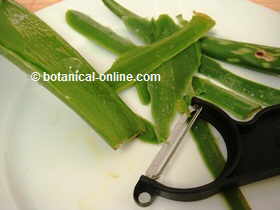 Peel the aloe leaf to uncover the inside.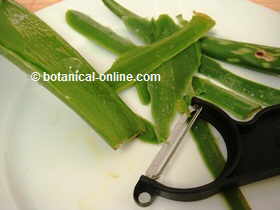 Put a little lemon juice in a bowl and blend.
How is aloe vera gel obtained at home?
Aloe gel is obtained by cutting a fresh leaf.
It is extracted by exerting pressure on it, for example with a spoon, to remove the pulp.
You can add the juice of half a lemon for the components of aloe to preserve longer.
The gel should be stored in the refrigerator and should be used within 7 days.
In external use, it is aimed for skin treatment.
Aloe gel is highly recommended for people with psoriasis.
For internal use aloe gel is suitable to treat gastritis and gastric ulcer.


More information about ALOE VERA
This article was endorsed by
Montserrat Enrich
- Journalist specializing in edible wild plants and plant uses.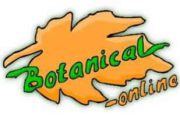 Written by
Editorial
Botanical-online team in charge of content writing