Herbal remedies for dark circles under the eyes
How to get rid off bags under the eyes with natural products?
The primary role of phytotherapy in the treatment of dark circles involves using a number of plants with the following objectives:
– Bleaching plants: to whiten the stained areas or removing soiled areas making them less noticeable.
– Anti-inflammatory plants: to reduce swelling of the veins or capillaries under the eyes.
– Natural alternatives to treatment with hydroquinone or alpha hydroxy acids (AHA) It is suspected that the former might contribute to cancer development or that could harm the health of the eyes.
AHA products (from the English word Alpha Hydroxy Acids) may be lactic acid from milk, glycolic acid from sugar cane or acids from various fruits. These products are not as aggressive as the hydroquinones.
Used in appropriate quantities, they often have no side effects, except in very sensitive people who suffer allergic reactions or burning.
When not used in the proper proportion, they can cause burns. Anyway, if you want to use AHA creams, alpha hydroxy acid content should not exceed 8%. Higher proportion will require medical prescription.
– Natural alternatives to treatments such as surgery, laser or lifting.
PHYTOTHERAPY: Herbal remedies for bags under the eyes
External use products to reduce inflamed bags under the eyes
– Chamomile (Matricaria chamomilla) Chamomile is one of the best anti-inflammatories. Placed in the form of cold compresses under the eyes, it helps reduce swelling and makes dark circles less noticeable (Infusion of a spoonful of flowers per cup of water. Cool well. Dip a gauze and apply for a quarter of an hour below the eyes)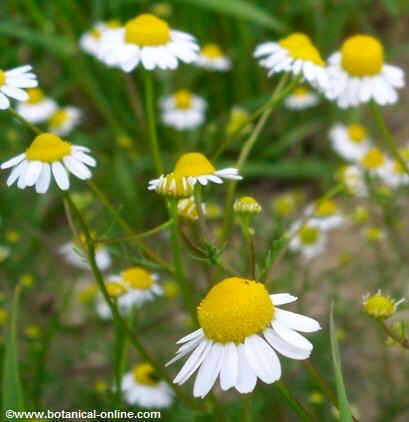 Chamomile flowers
– Tea (Camellia sinensis) Especially useful for swollen eyes and dark circles when compounded by striations, fatigue or sleeplessness. (Wet compresses with the infusion of a spoonful of dried plant per cup of water). (A good trick to relax the eyes and prevent redness caused by conjunctivitis or dark circles is to apply the same bag of a tea infusion over your closed eyes for 10 minutes)
– Witch hazel (Hamamelis virginiana) It is very important because of its anti-inflammatory properties. (Dilute a few drops of witch hazel extract in a compress and apply under eyes for 10 to 15 minutes. Sold in pharmacies or herbalists)
– Almond (Prunus amygdalus) Almond oil helps to relax the skin and reduces dark circles caused by inflammation of the capillaries. (Wet the skin under the eyes with a little almond oil)
– Cucumbers (Cucumis sativus) Cucumbers are very well known because of medicinal properties for skin care. Their pulp is a good anti edematous solution to reduce skin swelling and restore skin texture. (Apply a bit of cucumber under the eyes for 15 minutes. Rinse with cold water)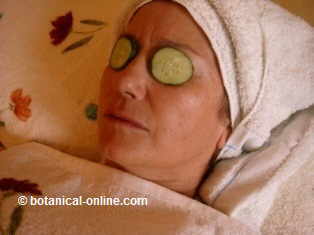 Cucumber treatment for the eyes
– Potatoes (Solanum tuberosum) potato pulp helps reduce inflammation of the veins that arise under the eye
*See more information about how to prepare a homemade recipe to remove dark circles under the eyes
Bleaching preparations to treat the bags under your eyes
– Parsley (Petroselinum crispum) has bleaching properties and it is ideal to clear skin blemishes of any kind. (Crush a sprig of parsley and apply the juice with a gauze under the eyes.) (See the study of this plant to avoid any possible toxicity)
– Lemon (Citrus limonum) (Apply lemon juice several times on the stained area)
– Carrot (Daucus carota) Carrots can be used to cure skin problems like eczema, wounds or sunburn. It is useful to mitigate the destructive action of ultraviolet rays. Applied as a mask on the face helps clear skin patches to remove the epidermal cells and promote renewal. (Mask of grated carrots for half an hour. Clean with cold water)
Tips to eliminate dark circles
Apart from using herbal remedies, there are some folk remedies that could be useful for the same purpose. For example:
– Apply a cold compress: It will help reduce inflammation. (Apply it on the eyes for 15 minutes. Sit in a comfortable position and try to relax)
– Try to disguise them: When bags under the eyes can not be solved, you can use cosmetics to disguise them. Always apply a preparation lighter than the color of dark circles so that these can be concealed.
– Use a whitening cream: For persistent dark circles a whitening cream can be used. Consult your doctor or dermatologist about the more convenient one


More information about bags under the eyes and its natural treatment.
This article was endorsed by
Vicente Martínez Centelles
- Founder of the web and director. Teacher of natural sciences, expert in plants, natural remedies and botanical photography.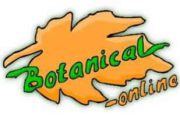 Written by
Editorial
Botanical-online team in charge of content writing