Pustules remedies
Natural treatment to get rid of pustules
HOW TO TREAT AND AVOID PUSTULES
Phytotherapy. Herbal remedies to get rid of pustules
The primary role of phytotherapy in treating pustules involves the use of a number of plants with the following objectives:

- Bactericidal plants to eliminate germs.

- Plants that help clean the affected area.

- Plants that reduce fat production in the area


INTERNAL USE PREPARATIONS FOR PUSTULES
Depurative plants for pustules in internal use
We recommend the use of depurative plants to remove toxins from the body and improve skin health. The skin is an organ that often reflects the whole body health.
Most of these plants produce a cleansing of the body by increasing urination, so they should not be taken in cases where too much urination could be counterproductive, such as in people with hypotension.
Similarly, the presence of tannins in many of these plants can cause intestinal discomfort and should be avoided when the patient has gastrointestinal ulcer or gastritis.
More information about depurative plants.
External use preparations for pustules
- Evening primrose (Oenothera biennis) topical application of primrose oil reduces pimples and acne inflammation in general.

- Arnica (Arnica montana) Wash the affected area with water resulting from the infusion of one teaspoon of dried plant per cup of water. Place a few drops of arnica tincture in a cup of water. Clean the area thoughroughly with a cloth.
- Thyme (Thymus vulgaris) for its antiseptic and cicatrizant properties, it can be used to wash the affected parts, which may be useful to prevent pimples to be infected. (Make a charged infusion of flowering tops and wash the zone of the skin affected by pimples)

- Parsley (Petroselinum crispum) Parsley cleans skin pores from grease and disinfects them (Infusion of tender grass. Apply for 1 / 4 of an hour a compress soaked with the resulting liquid on the affected zone of the skin)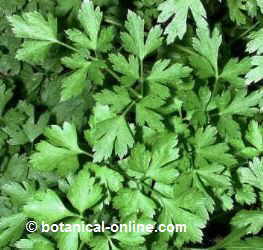 Parsley
- Echinacea (Echinacea spp) It reduces symptoms of acne in all its manifestations (Blackheads, pimples, etc) and prevents their infection. (Drench affected area with the liquid from the fresh plant. Dilute a few drops of tincture in water and apply a gauze over the affected area)

- Mallow (Malva sylvestris), for its mucilage content, it softens the skin and also helps eliminate other skin diseases, such as pimples, boils, sores, etc. (Decoction of 40 g of dry leaves in a litter of water. Apply a compress soaked with the liquid resulting for 1 / 4 of an hour twice a day)
- Oats (Avena sativa) to remove many skin imperfections such as pimples, blackheads, acne, etc. we can make a mask with a paste made with 5 tablespoons of oatmeal in a tablespoon of honey. Stir and add two egg whites. Apply as a mask over your face for 30 minutes. (More information about acne masks)
- Marshmallow (Althaea officinalis) this is still a more effective remedy than mallow. (Apply a compress with the liquid from a decoction for 10 minutes of a handful of dried root in a liter of water)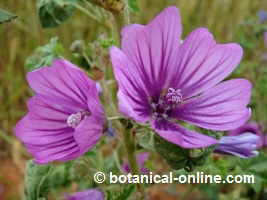 Marshmallow

- Birch (Betula alba) When the skin is affected by imperfections such as freckles, blemishes, pimples, etc. astringent properties of birch are very effective to remedy all these anomalies. (Wash these anomalies with the liquid from the decoction for 20 minutes of 5 tablespoons of shredded dried leaves per liter of water. Wash them in the morning after getting up and one in the evening before going to bed) (In internal use, it is effective drinking birch sap obtained by incision on the bark during the month of March. The effective dose is situated about 100 cc / day)

- Onion (Allium cepa) Its antibacterial properties make it a good disinfectant for the skin. (Drench affected area with the liquid from a fresh crushed onion)

- Cabbage (Brassica oleracea) For skin conditions, pimples, pustules, blisters, burns... etc, cabbage exerts a tonic value to the skin, especially when mixed with a little olive oil. (Crush the fresh leaves and apply as a poultice on the affected area of skin).

- Strawberries (Fragaria vesca) (Apply the juice of strawberries on the skin)

- Peach (Prunus persica) The tender leaves of peach can be used for external skin care, removing blemishes, pimples and other impurities from it. (Squeeze a few leaves and apply the juice on the affected area)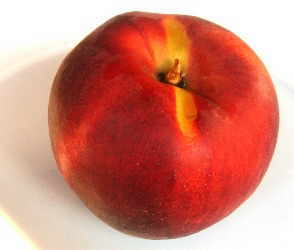 Peach

- Hibiscus (Hibiscus sp.) (Make a tea with a spoonful of dried leaves and flowers per cup of water. Apply a compress over the affected area.)

- Linden (Tilia sp.) The liquid from the infusion of one teaspoon of dried flowers per cup of water can be used to decrease the itchy rashes, pimples, scrapes, etc. (Drench the affected area with a gauze soaked with the liquid of the infusion)

- Cypress (Cupressus sempervirens) The astringent properties of this tree can be used for external treatment of acne. Compresses wet with the liquid resulting from the decoction for ten minutes of three tablespoons of crushed twigs per liter of water can help eliminate many symptoms of acne and blackheads, pimples, blackheads, etc.

- Walnut (Juglans regia) (10% infusion of dried leaves in a book of water. Apply wet compresses on the affected area)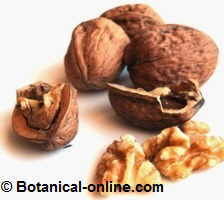 Walnut

- Papaya (Carica papaya) proteolytic and bactericidal properties of papaya are useful in removing pimples, blackheads or pimples prevent acne disorders to become infected. (Apply a lotion of papaya juice on the affected skin and keep it for 15 minutes. Then, clean it with cold water)

More information about pustules and its natural treatment in the listing above.
Other interesting articles
This material is for informational purposes only. In case of doubt, consult the doctor.
"Botanical" is not responsible for damages caused by self-medication.