What do roses symbolize?
Symbolic uses of roses: What do they symbolize?
Roses, in flower symbolism have the meaning of love, psychic powers, luck, protection, healing, etc. Depending on the color, roses can also have one or another meaning.
In addition to its medicinal, decorative and cosmetic properties, roses are attributed numerous magical uses.
Roses as a symbol of love
Roses have been traditionally used with different meanings. It is customary in Catalonia for men to give roses to their beloved women, friends, companions or loved ones, on Saint George's Day (April 23, Sant Jordi's day) as a sign of affection. Hence, this day is also known in this place as the Day of the Rose.
Legend of Saint George and the rose
This tradition derives from the legend of Saint George and the Dragon. Legend has it that there was a fierce dragon in a kingdom. To calm his fierceness, he was offered a lamb and a person each year. One day it was the king's daughter's turn. Saint George killed the dragon with his sword before it devoured the princess. From the blood of the dragon a rose bush was born and Saint George cut a rose and offered it to the princess.
Roses as a demonstration of love and affection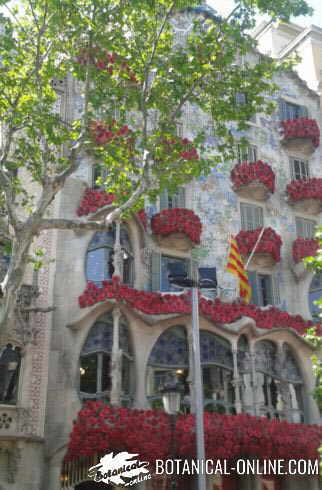 In fact, roses have been considered since ancient times as the symbol of Love. There is a saying in which the lover addresses the beloved and says "As proof of my love, I give you this flower" and usually give her a rose.
Many brides usually carry a bouquet of white roses in their hand on their wedding day as a symbol of purity and luck. The bride herself gives the bouquet to another future bride during the wedding reception, once the ceremony is over, wishing her to be as happy as she is and also to be lucky.
Combination of roses with other symbols
Sometimes roses are used with other flowers to increase their powers. Thus, for example, the conjunction of a rose, with catmint (Nepeta cataria) and rose quartz is used in love spells.
Some people make the following sachet with magical herbs as a love spell: "Fill a cloth sachet with rose petals, cat grass, damiana, lavender, and red clover. Add some hair from a loved one. This sachet will give you luck in love affairs or any trick against your love relationships that your enemies have thrown at you. "
Roses as a symbol of life and death
Paradoxically, while it is customary for some to offer roses at funeral farewells, with which these flowers become the symbol of death, in others they symbolize life, luck or health, hence the custom of adding rose water bathing or preening with cologne or rose perfume.
Planting roses in the front garden of our home is believed to be a way of welcoming and offering well-being.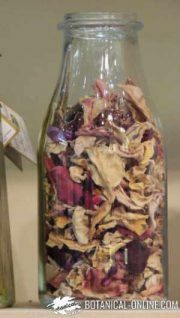 Surrounding the house with rose petals reduces stress and setbacks.
This contrast between the positive and the negative is clearly expressed in the popular saying "There are no roses without thorns."
Potion with rose petals
Anglo-Saxon tradition includes the preparation of a potion to favor luck in which rose petals are used. It goes like this: "A potion to favor luck can be made with rose petals. Also use holly leaves, rose quartz and two red candles. Light the candles and visualize what you want for 5 minutes. Then, drink a glass full of the potion and wash your hands when you are done. Put the holly leaves inside a cloth and place them under the bed to ensure good dreams."
Roses as a Christian symbol
White roses are, according to Christian tradition, the symbol of purity, of patience, of martyrdom. The Virgin is defined in the liturgy as "the Mystical Rose". Roses represent the Virgin Mary, so that many times she appears with a rose in her hand, with a cloak full of roses or with roses around her. Roses are offered to the Virgen del Pilar in Zaragoza, the Virgen del Carmen in Valencia and other virgins in Spain.
Red roses represent, also according to the Christian tradition, the blood of Christ, the pain and the sacrifice made by Him during the ascent to Calvary and the Crucifixion of him.
Meaning of roses according to their color
The meaning of roses according to their color is as follows: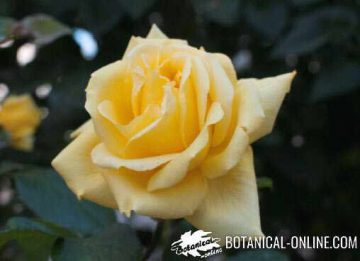 Red roses mean: passion, courage, romantic love, respect, creative spirit. "I love you" "my love is true". Lover's love.
Red and white roses mean: unity, mutual trust, truth, close marriage, girlfriend love.
Red and yellow roses mean: well-being.
Red buds mean purity, beauty.
Yellow roses mean: joy, happiness, friendship, care, warmth, affection, promise of a new beginning "Remember me".
Yellow rose with red petals ends mean: friendship, infatuation.
White roses mean: humility, innocence, purity, silence
White buds mean: youth in women.
Pink roses mean: admiration, grace, gentleness, femininity, elegance, appreciation, chivalry "Thanks"
Pink roses of light pink hue mean: joy, sweetness, understanding, admiration.
Pink roses with a deep pink hue mean: Appreciation, gratitude.
Lilac roses mean: Love at first sight.
Orange roses mean: Desire, fascination, enthusiasm.
Black roses mean: Death, grief, farewell, loneliness.
Blue roses mean: Unattainable, impossible
Lavender roses mean: Crush, enchantment


More information on roses
This article was endorsed by
Julián Masats
- Technical agricultural engineer specialized in horticulture and gardening.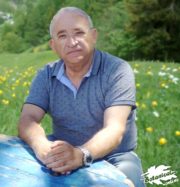 Written by
Vicente Martínez Centelles
Founder of the web and director. Teacher of natural sciences, expert in plants, natural remedies and botanical photography.