BENEFITS OF PECAN
What are pecan nuts?
Pecans are ovoid dry fruits up to 4 cm. in diameter, with 4 ribs marked and a pointed end.
It is an oleaginous dried fruit of pleasant flavor and high nutritional value, mainly because it is very rich in Omega 9, a type of fat like that one found in olive oil.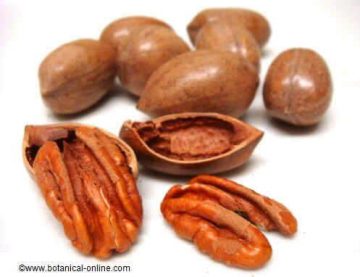 This fruit comes from pecan tree (Carya illionensis), a deciduous tree, native to the southern United States. According to various sources, the tree can be productive during 225 years.
As shown in archaeological remains, pecan tree was already known by the ancient American Indians, who fed on pecan nuts.
The importance of pecans as food is demonstrated by the fact that pecan tree is the official state tree of Texas, United States since 1919.
Pecans for cardiovascular health
Cardiovascular disease: Pecans are rich in Omega 9, mainly oleic acid, beneficial for the heart properties. They also provide arginine, an essential amino acid with vasodilator effect that prevents heart attacks.
Numerous scientific studies have shown the benefits of oleic acid to the cardiovascular system: consumed in a balanced way, foods rich in Omega 9 as pecans, help reduce inflammation processes in the body and reduce the risk of heart disease in the future.
Because of its very low sodium content, its contribution in potassium and trace elements, pecans are highly recommended for people with high cholesterol, hypertension, thrombosis, or circulatory problems.
The pecans are low in carbohydrates, and their properties are also suitable in the diet for diabetes.
Pecans to reduce cholesterol
Pecans compensate for their healthy fats content with a healthy intake of insoluble fiber, antioxidants, phytosterols and arginine:
STUDIES ON PACAN NUTS FOR CHOLESTEROL
A scientific study by Mexico State University evaluated the effects of taking 42g. pecans (about 15 units) daily. People who took pecans daily reduced their levels of bad cholesterol and triglycerides; and they increased levels of good cholesterol.
Another study from Loma Linda University showed that taking a handful of pecans nuts a day increased levels of gamma-tocopherol, a type of antioxidant that protects the oxidation of cholesterol, reducing the risk of arteriosclerosis.
Pecans for overweight and obesity
Regular consumption of 20 – 35g. pecans is recommended for people with overweight or obesity.
Because of its high fat content, this food has a high energy value. However, pecans are not contraindicated in the diet for obesity, but on the contrary. Scientific studies have shown that moderate consumption of pecans may help reduce cholesterol levels and prevent heart disease.
In addition, fats are a very satiating nutrient, which slows the passage of food through the stomach and increases the feeling of a full stomach. In other words, fatty foods slow gastric emptying, contributing to being less hungry.
Along with fiber, we can say that pecans are a satiating food, which can reduce appetite, and supports moderate intake diets. To achieve all its positive effects, you can balance the moderate consumption of pecans with heart-healthy foods, and vary the types of nuts from the diet.
Pecans for skin health
Omega 9 acts as a lubricant and protector of the dermis, balances body fats and helps repair damaged skin. The contribution of tocopherols and antioxidant minerals from this food helps to improve the appearance of the skin and prevents premature aging.
Pecans, nuts in general and olive oil are very suitable foods for skin care from within. We will recommend to people with skin diseases such as psoriasis, pimples or acne.
A supplement of minerals and trace elements
Pecans are a food rich in minerals, especially phosphorus, magnesium, manganese, selenium and zinc. In addition, it also contains trace elements, that is to say, minerals that perform different functions in the body, but must be supplied in very small amounts. Some trace elements are boron, copper, chromium and nickel.
Because of its composition, regular consumption of pecans is recommended to help maintain strong bones as well as, in stages of growth, it should be an essential food. We can introduce, for example, at breakfast or snack of children because they are rich in energy and minerals
Its mineral composition empowers it for the diet of athletes, as minerals will help prevent muscle cramps, improve muscle recovery and replenish electrolytes lost through sweating.
Pecans can also help treat stress because it contains healthy fats and antioxidant minerals, which fight free radicals generated by stress. The B vitamins they contain, provide energy functions, which help keep pace with busy life.
Pecans do not have the same properties as olive oil
The properties of foods rich in omega 9, as pecans, do not have to be confused with the properties of olive oil.
The health effects of olive oil for cardiovascular health are not only due to its composition rich in omega 9 but also because of the phenolic compounds provided (hydroxytyrosol, tyrosol and oleuropein).
These components are powerful antioxidants and protectors of blood capillaries, preventing capillary fragility and deterioration caused by the cholesterol accumulated in the arteries.
Although we take pecans in food, we should not forget that the best vegetable oil to complete the diet is extra virgin olive oil. (More information)


More information on pecans.
This article was endorsed by
Elisenda Carballido
- Dietitian nutritionist. Postgraduate in Phytotherapy and master in Nutrition and Metabolism.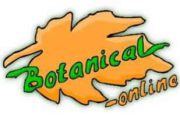 Written by
Editorial
Botanical-online team in charge of content writing