FENUGREEK USES
(Trigonella foenum-graecum)
Where is fenugreek mainly used
Fenugreek (Trigonella foenum - graecum) is a square and yellow or brown small seed, used mainly in Indian, Middle Eastern and North African cuisine.
It has a peculiar bitter taste, often displeasing in the West.
Historically, remains of fenugreek have been found in ancient Egyptian tombs, showing that it was used had by ancient Mediterranean cultures. However, due to its unique taste, this species has fallen into disuse in the West.
The main application of this seed is probably in its medicinal virtues. Its components are used in herbal medicine, and we can find these seeds in health food stores.
* More information: Uses of fenugreek in gastronomy.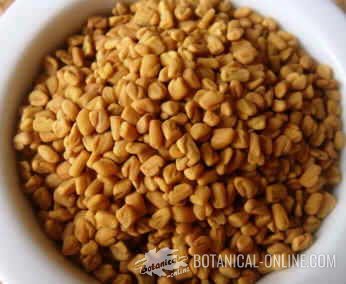 Grains of fenugreek
Nutritional Value of Fenugreek
- Fenugreek is a grain rich in proteins and fiber. This is because, although used as a spice, it is a grain legume, like peas or lentils. In general, legumes are rich in protein and fiber.
- Specifically, fenugreek fiber is mainly composed of mucilage and a special amino acid, amino acid (4 - hydroxyisoleucine), with cholesterol-lowering properties.
- Fenugreek seeds are rich in choline, and B vitamins, beneficial for the nervous system and involved in the process of obtaining energy from the body.
- The bitter taste advertises about its steroidal saponins content, components that can help remedy the symptoms of menopause and to treat sexual impotence in men.
- It also contains flavonoids with antioxidant and medicinal properties.
- Due to its low sodium content, this condiment is suitable for people who have to follow a diet low in salt.
Fenugreek properties for health
- Emollient : mucosal protective effect and slightly laxative. Indicated to treat heartburn, gastritis and constipation.
- Hypoglycemic: this powerful seed has been very effective in treating diabetes. Scientific studies show that the hypoglycemic action is greater than some antidiabetic drugs. However, this effect can cause adverse effects if the dose is not adjusted properly . Therefore, to treat with herbal Diabetes, a medical specialist must supervise the treatment. * More information: Fenugreek for Diabetes.
- Galactogogue: fenugreek seeds have the property to stimulate lactation in breastfeeding women. However, its use is not recommended in breastfeeding because their bitter components pass into breast milk. Consult your doctor before taking fenugreek.
- Anti-inflammatory: can be applied in poultices or plasters to treat inflamed joints, as in cases of arthritis, osteoarthritis and gouty disease.
- Hair loss: applied to the scalp, fenugreek can remedy hair loss.
(More information: see Fenugreek Medicinal Properties in the listing above).
Where to buy fenugreek
- Fenugreek seeds are an aromatic spice hard to find in supermarkets in the West because it is not usually consumed in the diet.
- Generally, we can find fenugreek in Hindu and Oriental supermarkets, and herbalists.
- Stores of spices in bulk. In these establishments, we can also find curry, a popular spice mix that contains ingredients as fenugreek.
- Because it is used in the sports world, it is possible that the sports supplement stores sell this type of supplement for bodybuilding.
- In pharmacies Fenugreek supplements can be found. In this case, and because of its many names, the most effective is to ask for a supplement with its scientific name: Trigonella foenum - graecum.
- On the internet you can also purchase these seeds. In this case, we must look for online shops that provide us this product.
- Fenugreek leaves are also consumed, although in this case it will be difficult to find them out of the countries where it is grown (mainly India, Middle East and Morocco). In these countries, we can consume in oriental restaurants alu methi traditional dish, made with steamed fenugreek leaves .
How to preserve fenugreek?
Fenugreek should be kept in a tightly sealed glass jar in a cool, dry place, away from light. Whole seeds preserve their flavor for more than two years. Instead, fenugreek meal (ground seeds) may lose their aroma and properties in 10 months.

More information on fenugreek in the listing above.
Other interesting articles
This material is for informational purposes only. In case of doubt, consult the doctor.
"Botanical" is not responsible for damages caused by self-medication.