Plant remedies for dry hair
Herbal treatment for dry hair
Phytotherapy: Preparations with plants for dry hair
The main function of herbal medicine in the treatment of the dry hair will consist of using those plants which purpose will lead to the use of the following types of plants:
Infusions for hair health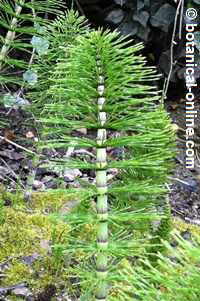 Horsetail infusions can solve dry hair
Rubbing your hair with natural products
Shampoo for dry hair
Using a base of baby shampoo without detergent
(Neutral shampoo) we can make a special shampoo for dry hair with avocado oil (American persea).
Take a tablespoon of neutral shampoo and add one egg yolk with half teaspoon of avocado oil. Mix well and wash your hair.
See other natural shampoos for all hair types
Supplements for dry hair
DIET FOR A HEALTHY HAIR
A diet rich in biotin, selenium and zinc can keep your hair in good health

More information on hair health.
Other interesting articles
This material is for informational purposes only. In case of doubt, consult the doctor.
"Botanical" is not responsible for damages caused by self-medication.