Sweet mustard sauce
Sweet mustard sauce recipe
HOW TO PREPARE SWEET MUSTARD SAUCE
Made from mustard seeds, salt, spices, acidifier, malt vinegar, honey, caramel and herbs.
Derived from Bavarian mustard, a traditional preparation also with sweet taste, which formerly was produced from wild mustard in coarse grains, honey and herbs.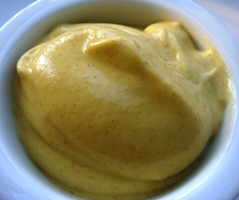 Photo of Dijon mustard
Ingredients of sweet mustard sauce
- 120g. ground white mustard seeds
- 150ml. apple cider vinegar
- 2 tablespoons honey
- 1 tablespoon turmeric powder
- ½ teaspoon ground cinnamon
- 1 pinch of coriander powder
- 1 pinch of anise powder
- 1 pinch of clove powder
- 2 tablespoons lemon juice
- 1 tablespoon brown sugar
- 1 teaspoon salt
Preparation of sweet mustard sauce
- Mix the crushed white mustard seeds with apple cider vinegar. Remove and let stand 15 minutes. Mustard contains a type of fiber called mucilage, with emollient effect, which forms a gel with vinegar. This gel will provide the ideal solution for this sauce texture.
- Add the honey, spices powder, sugar, salt and lemon juice.
- Stir well so that all ingredients become blended.
- When a homogeneous mass is formed, pour into glass jars.
- It must be kept in the refrigerator and use within 1 week.

More recipes and information on mustard in the listing above.
Other interesting articles
This material is for informational purposes only. In case of doubt, consult the doctor.
"Botanical" is not responsible for damages caused by self-medication.