Plant food meat types
VEGETABLE MEAT DIFFERENT TYPES
What are the substitutes for meat?
The main substitutes for meat are so-called vegetable meat. Among them, the most important are:
– Tempeh: Tempeh is a food derived from soy, so it has a high protein content.
This is obtained by cooking and fermenting the grain of this vegetable, using a fungus called Rhizopus oligosporus.
Tempeh process gives it a whitish appearance and firmness similar to that of a rice tortilla or a juicy and tender rectangular hamburger, but being 100% of vegetable origin and with a flavor similar to that of a walnut.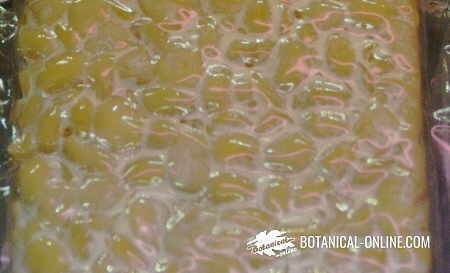 Photo of packaged tempeh
– Seitan: Seitan is a food that is obtained from wheat. In the central part of the grain of wheat there is the so-called wheat germ. It is the part that is commonly used as a food supplement due to the large amount of nutrients it contains, namely it is rich in lipids, proteins and vitamin E.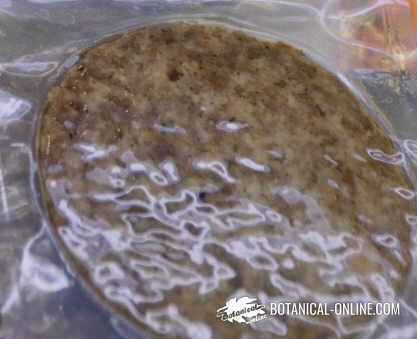 Photo of packaged seitan
– Tofu: Tofu is the Japanese name for soy cheese. It is an essential food in Japanese cuisine given the large amount of food that can be prepared with it and the great contribution of protein that it supposes for the population of this island.
Across Asia, tofu plays a fundamental role in cooking to the extent that this food is also known as "Asian cheese"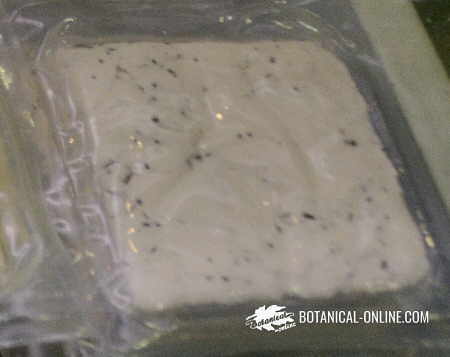 Photo of packaged tofu with aromatic herbs
– Textured soy: It is a product made from dehydrated soy. It should be soaked to hydrate it, which makes it look like minced meat. It is also known as soy protein. With these products different preparations are made in the form of croquettes, sausages, meatballs, soup, etc.
Example of a vegetable menu containing vegetable meat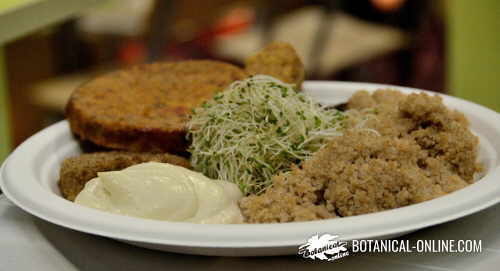 Photo of vegetable menu with vegetable meat. It consists on the following ingredients:
Spelt couscous
Tempeh macerated with tamari
Egg-free tofu sauce
Algae delights
Pepper Vegeburger
Where to buy vegetable meats?
They can be purchased at health food stores or vegetarian stores. Many of them can be obtained every day more in the department of natural products of the department stores.
As many of them require manual processing, it is important to buy them in reputable establishments and better that they are of ecological origin.
Other products that can be used as meat substitutes
In addition to the vegetable meat, we can use other vegetables that have a texture quite similar to meat.
Among them we can cite the following:
– Eggplants: Roasted eggplants are reminiscent of the appearance and texture of meat, although it must be admitted that its protein content is very low. So they should be combined with other foods containing more protein.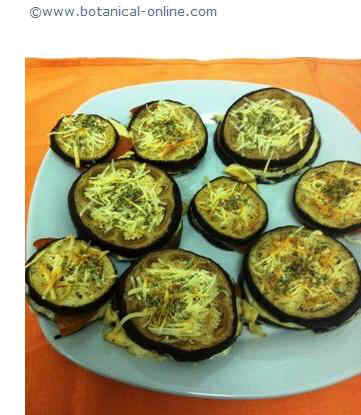 – Mushrooms: They have a texture quite similar to animal flesh. It is therefore not surprising that they are used intensively in vegetarian dishes. Its protein content is much higher than eggplant, although reduced compared to vegetable meats, legumes, nuts or cereals.
– Beans: They are rich in fiber so they can be a good substitute for meat.
– Soy: Raw soy is even richer than beans in protein. We can also use sprouted soy, soy milk, soy desserts, etc
* Related information: Seitan for babies, , how to preserve seitan


More information on vegetable meat.
This article was endorsed by
Elisenda Carballido
- Dietitian nutritionist. Postgraduate in Phytotherapy and master in Nutrition and Metabolism.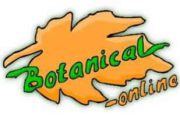 Written by
Editorial
Botanical-online team in charge of content writing