Recipe to prepare thyme infusion and its benefits
What is thyme infusion good for?
Thyme (Thymus vulgaris) is a highly valued plant in phytotherapy, especially for its properties as a natural antiseptic and antibiotic. It is a plant that is also used as an aromatic herb.
Thyme infusion properties
Thyme infusion is suitable for the natural treatment of respiratory, digestive and genitourinary infections. It is therefore indicated in cases of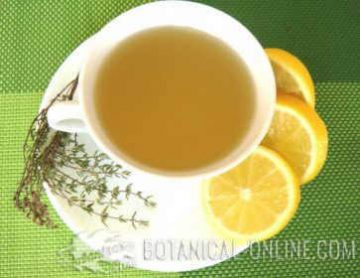 bronchitis, cough, indigestion, flatulence, diarrhea, constipation, cystitis, nephritis, etc.
It is also a hepatoprotective, antitussive, balsamic, mucolytic, expectorant, antibiotic, antioxidant, antispasmodic, diuretic, emmenagogue, stimulant and tonic plant.
Women can use it to relieve menstrual pain during this period of the month, since, in addition to being anti-inflammatory, thyme is an emmenagogue and facilitates uterine emptying.
What ingredients should the thyme infusion have?
Thyme tea can be prepared simply with 1 teaspoon of dried thyme leaves and flowers per cup of water.
You can also add a few slices of lemon, a few leaves of lemon balm, anise or stevia, to improve its flavor or complement its properties.
Thyme infusion preparation
The infusion method consists of heating the water to the boil, and when it begins to boil, turn off the heat, add the herbs and cover. Many plant principles can be extracted from infusions, such as thymol from thyme in this case.
Thyme infusion recipe for infections
How to make thyme infusion step by step:
Boil half a liter of water.

Thyme infusion with the plant in flower

When it breaks the boil, turn off the fire.

Quickly add 2 tablespoons of dried thyme and cover.
Keep the infusion covered and resting for 5 minutes.
Uncover, strain, let cool slightly and drink.
It is generally recommended to drink 3 glasses of this infusion per day.
Why is it important to cover the infusion?
Surely many people have noticed that, when uncovering an infusion, shiny specks appear on the surface of the liquid. Those droplets that can be seen in the infusions are the essential oil of the plant. If the infusions pots are not covered, the volatile oils evaporate.
Is it better to use flowering thyme?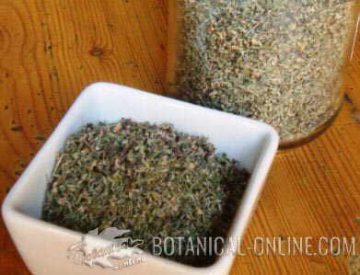 Thyme flowers contain a greater amount of active principles, so whenever possible, it is recommended to use flowering thyme.
Thyme infusion for children?
Thyme is one of the medicinal plants that can be used in children, because its traditional use does not contraindicate it. However, it should be administered with some caution:
The amount of plant to use is not the same as that of the adult. It must be appropriate, depending on the age and weight of the child. Babies should not take remedies. In case of childhood bronchitis or persistent cough in children, it is advisable to consult a pediatrician. Thyme infusion is common as a remedy for colds, but in children, respiratory problems can sometimes become chronic or complicated if not treated in time.
Can several herbs be mixed?
In general, it is recommended not to mix different medicinal plants in the same infusion, because many of them can interact with each other, producing unexpected effects, such as the enhancement of their effect or the appearance of adverse effects.
The preparations or combinations of plants for infusions should only be made by experts in phytotherapy.
*Related information: Thyme herbal remedies for the skin


More information on thyme
This article was endorsed by
Vicente Martínez Centelles
- Founder of the web and director. Teacher of natural sciences, expert in plants, natural remedies and botanical photography.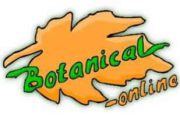 Written by
Editorial
Botanical-online team in charge of content writing