Toxicity, side effects and contraindications or chromium
Dangers of chromium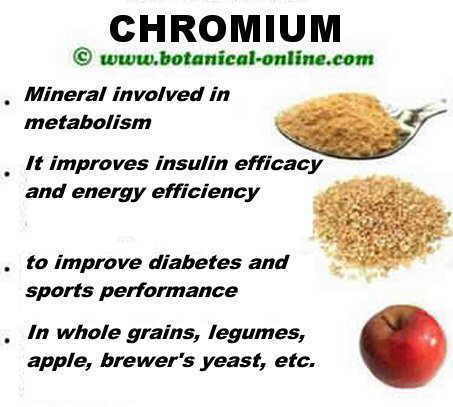 Main properties of chromium
Chromium is a mineral involved in the metabolism of fats, proteins and carbohydrates.
It collaborates in a better use of energy by improving the action of insulin.
It prevents clots and vascular accidents.
It is used in bodybuilding to help increase muscle mass. Its functions to take advantage of glucose can help increase the performance of sports force.
Toxicity of chromium
Used in adequate amounts and during the time recommended by the doctor, chromium does not present problems of toxicity.
Chromium intoxication is very difficult, because it is an element that is absorbed with great difficulty and is easily eliminated.
Side-effects of chromium
Although becoming intoxicated with chromium is very difficult, however, some side effects have been reported. Mainly the following:
An excess of chromium can produce negative reactions in the body that can manifest in the form of problems of liver, kidneys or disorders in the blood.
Chromium contraindications
It is not appropriate to take chrome for the following disorders :
What other people should not take chrome supplements?
The following people should not take chromium supplements without consulting their doctor or specialist:
Chrome Interactions
Chrome can interact with the following products:
MINERALS
MACROELEMENTS
MICROELEMENTS
Calcium, chlorine, phosphorus, magnesium, sodium, potassium
Boron, copper, chromium, fluorine, iron, manganese, molybdenum, selenium, iodine, zinc.

More information on chromium and minerals
Other interesting articles
This material is for informational purposes only. In case of doubt, consult the doctor.
"Botanical" is not responsible for damages caused by self-medication.