Grape vine properties
Vitis vinifera
MEDICINAL PROPERTIES OF GRAPE VINE
Characteristics of grape vine
Common English name: Grapevine, climbing vine, common grape vine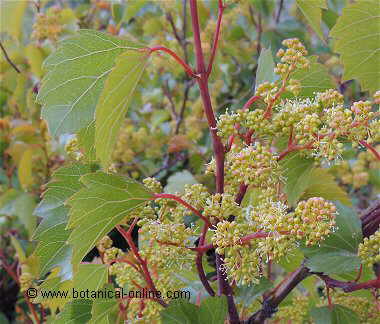 Wild grape vine with the fruits starting to become ripe
See common name in other languages
Scientific name: Vitis vinifera L.
Family. Vitaceae
Grape vine description
Deciduous shrub, with creeping or climbing habits, from Vitaceae family up to 30 m in length.
Short thick woody stems, very twisted and knotty. From the woody stem, branches (vine shoots) are born, long and knobby, with a woody consistency.
Vine shoots spread on the ground if you do not provide them something to grip or climb.
Leaves opposite, petiolate, with five or seven lobes, palmately, up to 15 cm in length.
Greenish flowers in clusters.
Edible white or black berry fruits, called grapes.
Habitat. Where to find grapevines?
This species is cultivated in most countries of southern and central Europe, northern Africa and western Asia. Although it can be easily naturalized, it comes from the wild species Vitis vinifera subsp. sylvestris that can still be found in a wide Mediterranean fragmented area stretching from Spain to southern areas of the Caucasus and Central Asian.
The cultivated species has flowers with both sexes, but the wild species has leaves more rough and differ according to sex, unisexual flowers and smaller fruits. They are more acid, blue-black, with much larger fruit seeds.
Components of grapevine: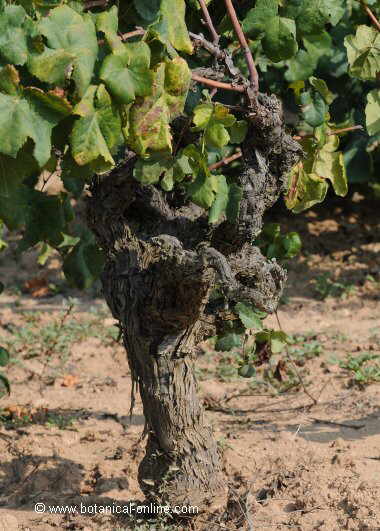 Cultivated grape vine
MEDICINAL PROPERTIES OF GRAPE VINE
In this article we refer to the medicinal properties of the leaves and seeds of the plant of the vine. To view the properties of the fruit of the vine or grapes see under " Properties of grapes " in the listing above.
INTERNAL USE PREPARATIONS WITH GRAPE VINE LEAVES AND TENDRILS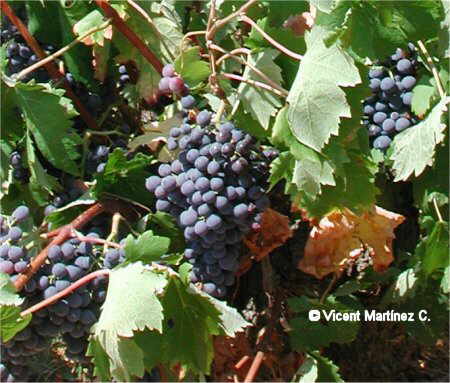 A detail of the ripe fruits and leaves of a cultivated common grape vine
Grape vine for the circulatory system
Grape vine leaves have properties that make them very useful to facilitate the circulation of blood.
Besides being a strong astringent, grape vine leaves possess hemostatic (catechins, gallic acid and ellagic) venotonic, and antiplatelet properties, so that they prevent thrombi formation. Thrombi are responsible for many strokes.
The main components responsible for this activity are flavonoids (especially anthocyanins quercetins, catechin and epicatechin), ascorbic acid, caffeic acid and alpha-linoleic, magnesium, salicylic acid and resveratrol.
They, also have vasodilatory properties by means of increasing the size of the arteries and capillaries and facilitating blood flow (Anthocyanins, quercetins, calcium, potassium, magnesium and routine give these properties)
These properties are very interesting in the treatment of circulatory diseases such as:
Grape vine to treat digestive diseases
The astringent properties of this plant are used to treat digestive abnormalities such as:
Grapevine for urinary deseases and metabolism
The diuretic properties of this plant, especially the use of tendrils, are exploited in the treatment of many diseases in which increased urination may help.
The use of this plant helps to eliminate fluids and helps to purify the blood and improve the treatment of anomalies related to excessive retention of body fluids, such as in edema, gout or arthritis. (Decoction for ½ of hour 30g of earrings in one liter of water. Allow to cool for 30 minutes more, color and drink 2 cups a day)
The infusion for 10 minutes of a teaspoon of dried leaves per cup of water may help remedy the problems associated with kidney stones.
EXTERNAL USE PREPARATIONS WITH GRAPEVINE LEAVES
External use preparations with grapevine sap or "branch water" What is grape vine sap?
For external use is very appropriate what is known as "water or sap or red grape vine". It is the sap of the plant that is obtained in spring, usually in March, before the leaves come out.
To do this possible, a tender branch is cut and allowed to distill a liquid through the cut. By placing a glass well below the cut, you can pick some "clean water". this liquid can be used in conditions such as:
How to say grape vine in other languages
Basque - Euskara: Mahatsondo
Catalan - Català: Vinya, cep, parra
Czech - Čeština: Réva vinná
Danish - Danks: Almindelig vin
Dutch - Nederlands: Wijnstok
Español - Spanish: Vid, parra
Finish - Suomi : Viiniköynnös, aitoviiniköynnös
French - Français: Vigne,Vigne cultivée
Galician - Galego : Vide, videira
German - Deutsch: Weinrebe
Hungarian - Magyar: Bortermő szőlő
Italian - Italiano: Vite comune, vite euroasiatica
Lithuanian - Lietuvių: Tikrasis vynmedis
Norwegian - Norks: Ekte vinranke
Polish - Polski: Winorośl właściwa
Portuguese - Português: Videira
Romanian - Română: Viță de vie
Russian - Русский: виноградная лоза
Serbian - Cрпски / Srpski: Винова лоза
Slovenian - Slovenčina: Vinič hroznorodý
Swedish - Svenska: Vinranka
Turkish - Türkçe: Asma

More information on grapes and wine.
Other interesting articles
This material is for informational purposes only. In case of doubt, consult the doctor.
"Botanical" is not responsible for damages caused by self-medication.