Properties of oats
PROPERTIES OF OATS
PHYTOTHERAPY: Healing remedies made with oats
Internal use
- Diuretic: The silicon content of this plant increases the production of urine and allows to eliminate uric acid, reason for which it is used in the treatment of gout and other diseases related to problems of elimination of liquids: rheumatic diseases, problems of urination, etc.
(Decoction of dried plant 5 tablespoons per cup of water for 30 minutes. Take a couple of glasses, divided into several doses throughout the day)
- Respiratory apparatus: Very useful for the treatment of respiratory diseases in which action is required and mucolytic expectorant allowing for the dissolution of the mucus and their expulsion. Cough, bronchitis, etc. (Decoction of 4 tablespoons of seeds in two liters of water until the water evaporates to half. Drink two glasses per day in divided doses)
- Fertility: The oat extract (available from herbalists) appears to promote increased male fertility (Take the product according to the prospectus conditions)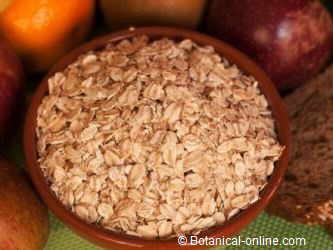 Oats flakes
- Stimulant: It has very powerful energy which makes it suitable for the treatment of a lack of libido in people who work hard, who are tired at night and have little appetite for making love, or who tire easily during relations. (Boil in a saucepan a cup of hot water with 3 tablespoons of oatmeal. When ready, add 1 tablespoon of honey and a pinch of cinnamon. Perform once or twice daily in the morning and evening) This same preparation can made with barley.
- Quit smoking: Extract of oats is being used as an aid to quit smoking. (Use according to information leaflet)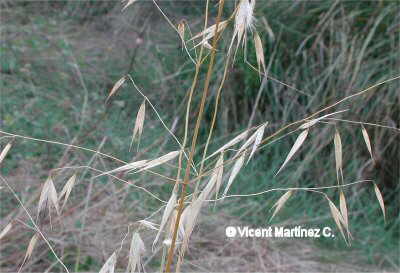 Wild oats photo
External use
Used externally, it has very interesting properties for skin care, to the extent that this cereal is part of many beauty products such as soaps, creams, shampoos, lotions, etc.
- Psoriasis: Very interesting to treat this disease and to improve the itching that it habitually produces (Place in a cloth bag 10 tablespoons very lumpy oatmeal and place in water bath)
- Scabies: The same preparation is desirable to reduce the itch of scabies.
- Urticaria: Also it is effective for the treatment of the urticaria.
- Dermatitis: Oatmeal is very useful to relieve itching. Apply a cold oatmeal with water to the affected area. To do this you use the liquid from the infusion of a half cup of oats per liter of water. Squeeze the mixture to remove the liquid and cover with the compress.
- Mask for skin care: In order to eliminate many imperfections of the skin, like pimples, blackheads, acne, etc a mask can be made with a paste made with five tablespoons of oatmeal in a tablespoon of honey. Stir and add two egg whites. Cover the face for 30 minutes. Oats are used in cosmeticin a very usual way for the care of the skin, for nutritious masks or very interesting creams. (See also Masks for the acne)
- Rheumatic pains: To relieve the pain caused by rheumatic diseases can mix some oatmeal with vinegar then boiled until it becomes pasty. Place on affected area. This same treatment can be used to mitigate the severe pain of low back pain.
- Sunburns or burns: Oats flour cataplasm on the burn.

More information on oats in the listing above
Other interesting articles
This material is for informational purposes only. In case of doubt, consult the doctor.
"Botanical" is not responsible for damages caused by self-medication.