Properties of oats
Curative remedies with oats
MEDICINAL PROPERTIES OF OATS
Phytoteraphy: Healing remedies made with oats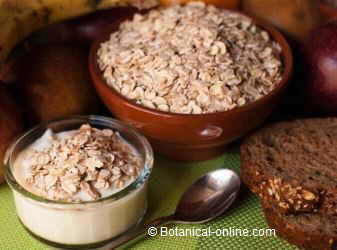 yogurt with oats
The main healing properties of oats are the following:
Sedative: Oats contain an alkaloid called avenine that provides sedative effects on the nervous system. Eating oatmeal can help people with nervousness, insomnia, stress or anxiety. (Take oats usually in the diet)

Eating cravings: Oats are rich in soluble fiber (betaglucans). Soluble fiber in contact with water increases in size and produces a feeling of satiety that helps to reduce the sensation of hunger. It also contains the avenine alkaloid, with reassuring properties. (Take a glass of water in which you have allowed to macerate a couple of tablespoons of flakes or oat bran for a few hours)
It can be used as an adequate remedy for not eating so much, especially suitable in cases where there is an uncontrollable craving for eating sweet or diets to lose weight.
Hyperactivity: Oats and preparations such as porridge is a highly recommended alternative to sugary cereals for children, especially when there are problems of poor school performance, lack of attention in class or hyperactivity.

Respiratory apparatus: Very useful for the treatment of respiratory diseases in which action is required and mucolytic expectorant allowing for the dissolution of the mucus and their expulsion. Cough, bronchitis, etc. (Decoction of 4 tablespoons of seeds in two liters of water until the water evaporates to half. Drink two glasses per day in divided doses) (It can be eaten in the form of porridge)
Preparations with oats plant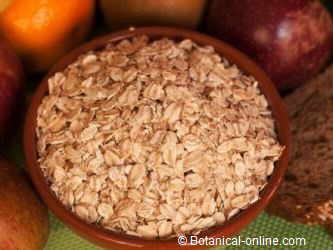 oatmeal
Oats in external use: Hair care and skin health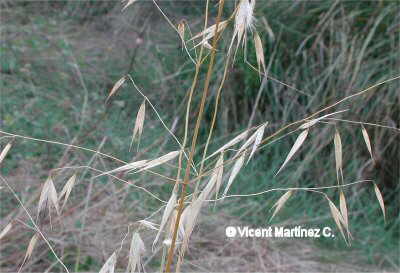 Wild oats photo
Used externally, it has very interesting properties for skin care, to the extent that this cereal is part of many beauty products such as soaps, creams, shampoos, lotions, etc.

More information on oats.
Other interesting articles
This material is for informational purposes only. In case of doubt, consult the doctor.
"Botanical" is not responsible for damages caused by self-medication.