Main components of tarragon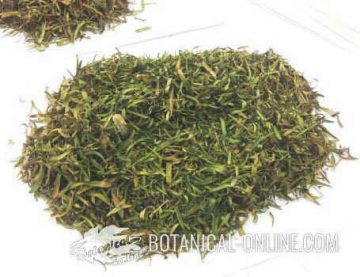 Tarragon is an herb that is used in food as a condiment.
This plant hides a wealth of vitamins and very important phytochemicals, so it should make special mention of its components in this section.
Composition of tarragon(Artemisia dracunculus)

per 100g.

Nutrient
Amount
Energy/ Calories
295kcal.
Carbohydrates
50,22g.
Proteins
22,77g.
Fat
7,24g.
Fiber
7,40g.
Vitamin C
50mg.
Niacin
8,95mg.
Iron
32,30mg.
Calcium
1.139mg.
Potassium
3.020mg.
Sodium
62mg.
Aromatic components of tarragon
Estragole*
7.763ppm.
Caffeic acid*
7.640ppm.
Trans, cis Ocimene
N.A.
Sabinene*
3.700ppm.
Methyl-eugenol
2.900ppm.
Elemicine
2.770ppm.
Alpha-pinene
1.000ppm.
Myrcene
1.000ppm.
Capillarin
920ppm.
Thujone*
600ppm.
Rutin
500ppm.
Menthol
500ppm.
1,8- Cineole
500ppm.
Camphor
200ppm.
Gentisic acid*
150ppm.
Anisole
100ppm.
Anisic acid*
80ppm.
Naringenin*
44ppm.
Ferulic acid
38ppm.
Scoparone*
8ppm.
Isorhamnetin*
7ppm.
Salicylic acid*
3ppm.
Source: Dr. Duke's Phytochemical and Ethnobotanical Databases (2012).
N.A. = Not evaluated
* Note: highlighted in bold and with an asterisk (*) the most remarkable substances, because the tarragon is a good natural source in that component.
Properties and uses of tarragon
Properties of tarragon
Medicinal uses of tarragon
– Aromatic

– eupeptic

– Carminative

– Antiulcer

– Antihelicobacter

– Choleretic

– Cholagogue

– Hypoglycemic

– Natural antibiotic

– Vermifuge

– Antithrombotic

– Antioxidant

– Anti-inflammatory

– Sedative

– Antispasmodic

– Seasoning food, herb

– Tarragon essential oil in aromatherapy

– Indigestion

– Bloating or flatulence

– cramps

– Gastritis

– Stomach Ulcer

– Hepatoprotector

– Prevention of gallstones

– Diabetes

– Intestinal Worms

– Thrombosis

– Insomnia

– Nervousness

This plant should be used sparingly because of the carcinogenic potential of estragole (present in the essential oil).

Tarragon has components that make it a plant unsuitable for pregnant women. Do not take it if you are pregnant. * More information: Plants and pregnancy.


More information on tarragon properties and medicinal uses
This article was endorsed by
Julián Masats
- Technical agricultural engineer specialized in horticulture and gardening.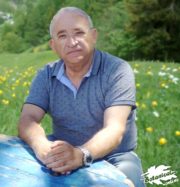 Written by
Vicente Martínez Centelles
Founder of the web and director. Teacher of natural sciences, expert in plants, natural remedies and botanical photography.