This article was endorsed by
Elisenda Carballido
- Dietitian nutritionist. Postgraduate in Phytotherapy and master in Nutrition and Metabolism.
Aronia berry as food
Aronia fruit is known for its phytonutrient content, giving it antioxidant and other medicinal properties. Although it has not proven its importance until recent studies, aronia berry is the fruit with the highest antioxidant potential. This valuable fruit also gives us:
Tannins, the major component which this fruit brings us among all the polyphenols. Tannins are compounds with antioxidant, astringent and antibacterial action. They also inhibit the absorption of cholesterol and they are responsible for the characteristic bitter taste of the fruit.
Anthocyanins: specifically, aronia contains the amount of 1.5 g per 100 g of fruit anthocyanins. This makes aronia juice an ideal antioxidant to prevent aging, to improve skin appearance or help fight colds. These substances are also contributing to the purple color of this fruit.
Aronia is also very low in calories, so it provides few fats, sugars and proteins. In short, the most prominent components of this fruit are antioxidants.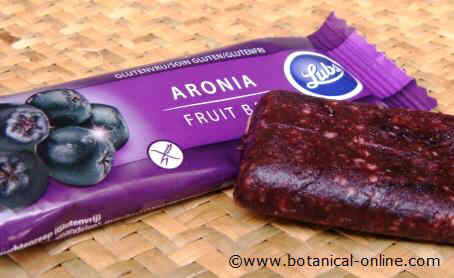 In the image: bar of dates with almonds, sour cherries (15%) and aronia concentrate juice(9%) by brand Lubs.
How to eat aronia or chokeberry
Fresh Fruit: this fruit can be eaten fresh, although aronia marketing in most continents is not yet widespread. This is because the properties of this fruit have been known for a relatively short time, and it is only consumed fresh in the eastern United States, parts of Canada, parts of Russia and Eastern Europe mainly. It is preferable to transform this fruit into juice or jam, in order for it to acquire a better taste. Do not forget that tannins are very astringent and bitter substances, qualities that disappear when cooking this fruit.
Jams: due to the pectin content, it is possible to make delicious jams with this fruit.
Aronia juice: It is the most widespread form of this fruit and the best way to consume it. It is usually prepared in combination with other antioxidants such as acai berries, blueberries and raspberries. Some juices are made with 100 % aronia, and have better flavor than the fresh berries, because these are a little bitter. More information: properties of aronia juice in the listing above.
Bars, breakfast cereals, yogurt, ice cream:. Aronia juice or aronia concentrate may be present among the ingredients of these products, enriching anthocyanin.
Aronia tea: Aronia is an ingredient for antioxidant teas indicated for stress. Furthermore, the content of anthocyanins stain water infusion dark, indicating the presence of these substances.
Capsules: As with aronia juice, there are powdered berries capsules combining several high aronia content
Aronia wine: Wine and spirits are also produced from aronia.
Aronia vinegar (see photo on the right column)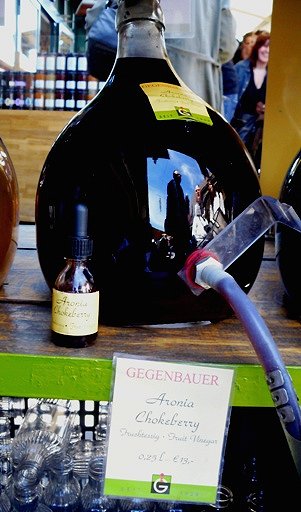 In the picture: Aronia vinegar by Gengenbauer house as sold on the market in Vienna Naschmarkt
Food additive. Aronia extract (anthocyanins) is used as E-163 coloring additive. By adding aronia juice concentrate, you can provide a deep purple to the food to which you add it.
Who is recommended to take Aronia?
The concentration of aronia juice may vary by brand name. It is recommended to take 50ml of pure aronia juice diluted in water, and not exceed this dose. In case of drinking a fruit juice with aronia. one can increase the amount of dilution.
Who should avoid taking Aronia?
Pregnant women should avoid eating aronia during pregnancy until aronia safety is proven in these cases, as there is not enough scientific literature.
People with autoimmune diseases should first consult with a physician. Although aronia has proven beneficial for some diseases, such as multiple sclerosis, increasing immunity may negatively impact on such diseases. Consultation l and specialist supervision is essential in these cases.
Where to buy Aronia
– Dietary and organic stores. Aronia is a little known food in some countries and it is often only sold in specialty stores. It is usually marketed as aronia juice, and sometimes we can order it.
– Shopping on line. Internet ends up being the most practical choice to buy unconventional products.
Preserving Aronia
Fresh aronia is a delicate food. It has to be kept refrigerated until consumption far from sunlight to prevent rusting. It is recommended not store together with other fruits to avoid contamination between them.
Aronia juice should be stored in a cool, dry, dark place. Once opened, kept in the refrigerator for 10 days.
.

More information on aronia.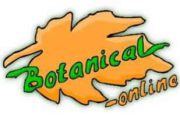 Written by
Editorial
Botanical-online team in charge of content writing