Maca properties
MACA MEDICINAL PROPERTIES
BENEFITS OF MACA
Maca (Lepidium meyenii) root is a valuable reserve, call hypocotyl, used as food and above all as a natural remedy since the time of the Incas.
Native of Peru, Maca has spread worldwide as a medicinal plant, and it is cited in Peruvian herbal medicine to stimulate the immune system, anemia, tuberculosis, menstrual disorders, menstrual problems and menopause symptoms, increase fertility, as an stimulant, to increase desire or improve memory.
Other properties attributed to this plant are a remineralizing remedy to treat anemia, chronic fatigue and increase energy, a natural endurance and physical performance enhancer in athletes.
Maca is also used to prevent osteoporosis and depression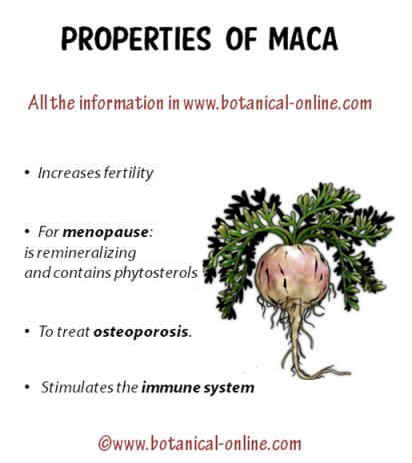 Main curative properties of maca
Stimulating properties of maca
- Scientific studies have shown the protective role of maca in preventing prostate hyperplasia.
* More information: Maca, the fertility plant.
Maca for menopause
The beneficial effects of maca during perimenopause and menopause are due to its revitalizing, mineralizing and libido increasing effects.
During this stage, many women may feel less sexual desire due to lower production of their body's natural estrogens. Maca has an aphrodisiac substance called methoxybenzyl isothiocyanate, which helps to improve sexual desire.
It also has natural phytosterols may help treat hot flushes and side effects during the climacteric.
Furthermore, its high content of calcium (220mg / 100 g. Of food) makes dried maca root a good food to take with meals, stews or soups in preventing osteoporosis

More information about maca in the listing above.
Other interesting articles
This material is for informational purposes only. In case of doubt, consult the doctor.
"Botanical" is not responsible for damages caused by self-medication.