The best food for pancreatitis
PANCREATITIS SUITABLE FOOD
What is the suitable food for pancreatitis?
The Diet for Pancreatitis must be a simple, natural diet, with plenty of vegetables and low -fat foods.
This diet seeks to control the nutritional risks of these patients, who are: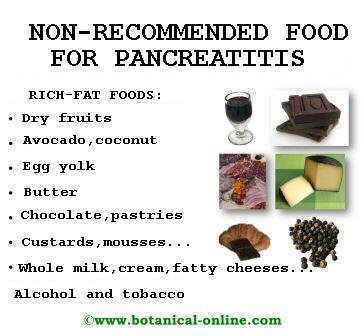 Food to avoid with pancreatitis
Avoid malnutrition: People with pancreatitis (especially those suffering from chronic pancreatitis) should eat nutritious and energetic food to avoid nutritional deficiencies.
Virtually NONFAT diet: Doses greater than 2030g of oil per day are NOT tolerated.(20 30 depending of they are tolerated).
Fats can cause pain and diarrhea. This applies to ALL types of fats (pastries, chocolate, avocado, nuts, etc..).
Avoid alcohol and tobacco: Can cause pancreatitis bout.
Supervision and advice of a qualified physician or nutritionist to better assess what should be the diet in each case is recommended.
Nutritional guidelines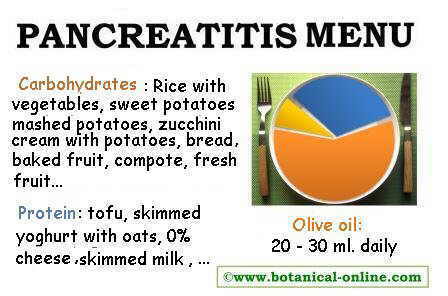 Chart diet for pancreatitis.
Make 6 meals a day and distribute food throughout the day. Eating large amounts can cause pain.
Nonfat cooking methods: papillote, steamed, boiled, creams, puree, soup, oven,, etc..
Foods that require cooking, such as cereals or legumes, should be well cooked. Thus " you save " work to to pancreas in the digestion process.
How to introduce food: The first 10 days after an attack of pancreatitis, one should make an initial diet for acute pancreatitis.
RECOMMENDED FOOD FOR PANCREATITIS
Balanced Diet Food
The basis of the diet should be vegetables and cereals, as they are nutritious and easy to digest. Foods that require cooking must be cooked a long time to make them more digestible, such as legumes and grains
Vegetables and tubers for pancreatitis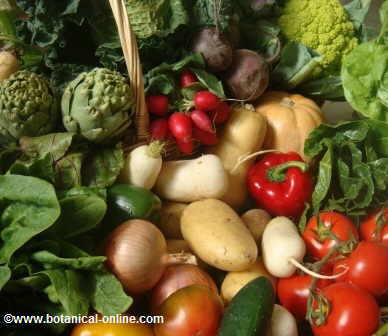 Vegetables and tubers are very suitable food for pancreatitis.
Vegetables and tubers must be the staple food, mostly those with less fiber and less flatulent. Recommended: potato, sweet potato, tapioca, zucchini, onion and carrot.
Other group of vegetables that are recommended: sprouts, cauliflower and broccoli, asparagus, mushrooms, beets, spinach, squash, etc..
Bright green vegetables are highly recommended to prevent vitamin A deficiency because they are rich in beta carotene.
Cereals and bread for pancreatitis
Cereals are the staple food for its high nutritional value and because they are easily digested. For example rice, oats, millet and maize.
You can always eat bread when tolerated. Dextrinised bread is easier to digest. Dextrinised means firing at controlled temperatures to prevent it to become burned. This type of bread rusks are sold in supermarkets usually, for example.
Legumes for pancreatitis
You can take legumes in small amounts because they are a rich food, very nutritious and essential in vegetarian diets because they containing a lot of vegetable protein and minerals.
Undercooked legumes can cause flatulence, so we recommend purchasing vegetables from the supermarket sold and cooked in glass jars. These legumes are easier to digest since they have been been cooked for a long time. If cooking vegetables at home, cook them for a long time ​​: lentils, chickpeas, soy beans, etc.
* More information: Pancreatitis and diabetes.
Fruits for pancreatitis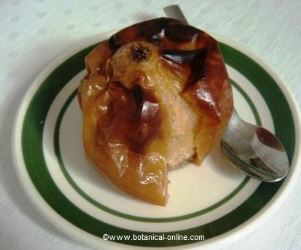 Baked apple
is best tolerated by these patients
Fruits are better tolerated when baked or boiled with cinnamon. Thus, the fruit sugars are "broken" into smaller molecules and are more digestible for the organism. The most recommended fruits include pineapple, papaya, mango, kiwi and figs. These fruits contain enzymes that
Fresh fruits should be taken when tolerated, since they give us a good dose of vitamin C. In case of being the more indigestible fruits, choose the ripest ones and peel the skin. Some fruit preparations easy to digest are: stewed fruit, boiled pears with cinnamon, baked apple, papaya, peaches, etc..
Can we take sugar with pancreatitis?
We can add sugar to increase the calorie intake of the diet, especially if we are thin or eat little. Again, in case of diabetes, quantity that we add to the preparations should be moderated.
* More information: Diabetes in pancreatitis
Is oil adequate in pancreatitis?
People with pancreatitis should take little oil a day (20 to 30 ml) to prevent diarrhea (2 to 3 tablespoons oil per day).
Are herbs and spices suitable in case of pancreatitis?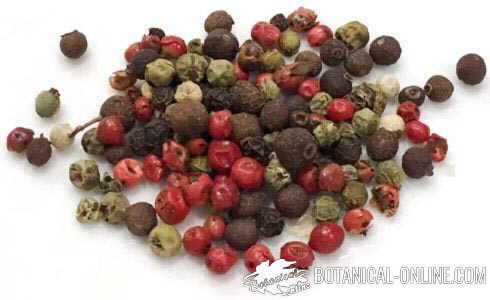 Pepper must not be added to pancreatitis menus
We will avoid dishes with many spices as they stimulate the digestive organs and can cause pain. The dishes should be simple and never contain spices. Some spices are well tolerated in small doses: thyme, anise and cumin.
Do not take pepper, mustard or spicy seasonings. For example, garlic and ginger are NOT suitable because they stimulate the digestive organs and the pancreas and can cause pain if taken in pancreatitis.
Protein-rich foods in pancreatitis
Proteins are essential nutrients to health. Protein loss through feces generally occurs in pancreatitis, due to malabsorption of protein foods (creatinine excretion in feces).
In vegetarian diets, we will focus on eggs, yogurt and soy (preferably organically grown):
Egg without yolk: Egg yolk is rich in fat and can cause severe pain if taken. However, egg white is rich in protein and essential amino acids. You can boil the egg and separate the white. The yolk should not be eaten.
Dairy fats: Another excellent source of high quality protein. They should always be taken skimmed: plain or flavored milk, curd, cheese 0 %.
Tofu and tempeh: They provide protein and other important nutrients. You have to cook them boiled, not fried.
Soy drink: Drinking during the day soy drink provides protein, calcium and magnesium (calcium enriched beverage choice).
Soy protein: You can buy it in powder or in extruded format. Soy protein can be added to vegetable preparations such as creams, in the same broth to boil the rice, etc..
White fish: In carnivorous diets we should enhance whitefish (that's to say, lowfat fish such as monkfish, hake, etc..) And lean meat. Sausages are totally contraindicated.
Nutritional deficits and pancreatitis: Lack of proteins in pancreatitis
It is important to ensure that people with pancreatitis eat enough protein a day, ensuring the intake of some skimmed diary products almost every meal (yogurt, cheese 0 % or skimmed milk).
Protein deficiency can lead to states of malnutrition, muscle loss, bone loss, osteoporosis, dementia, etc.. . We can prevent these deficiencies giving, plus protein foods (with no fat), rice, oats and bread in the diet to provide the calories your body needs.
In strictly vegetarian diets, soy derivatives have a very important role (it is recommended to eat those from organic farming) tofu (boiled), extruded soy protein (creams or with pasta and tomato sauce), soy drink enriched with calcium, etc..
People who eat meat should enhance especially whitefish and fat-free lean poultry (chicken or turkey) .
Lack of vitamins in pancreatitis
Due to the strong restriction of dietary fat, people with pancreatitis may suffer deficits of soluble vitamins (vitamins found in fatty foods).
The fats are needed to absorb vitamin A, vitamin D, vitamin E and vitamin K: Only with the presence of fats in the intestine, the body is able to absorb vitamins.
People who perform very low-fat diets may have a deficit in any of these vitamins. The lack of fat produce a state of avitaminosis, even if vitamins are supplied in the form of vitamin supplements.
Situations in which a fat input of less than 10 % is prolonged can be initially manifested in symptoms such as dry eyes.
* Related information: Menu for pancreatitis


More information on pancreatitis.
This article was endorsed by
Elisenda Carballido
- Dietitian nutritionist. Postgraduate in Phytotherapy and master in Nutrition and Metabolism.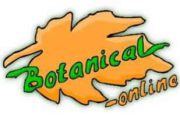 Written by
Editorial
Botanical-online team in charge of content writing