PROPERTIES OF JAPANESE TEA
TEAS OF JAPAN
What is Japanese tea?
The story of tea begins in China, where it quickly spread to Japan, which is currently the sixth largest consumer of tea in the world.
The tea is taken in Japan since ancient times as much as in China, from the year 523 a. C. The first uses of tea in Japan are attributed to the Zen Buddhist monks
Buddhist monks used to travel to China to acquire new knowledge. It was probably through these migrations that tea was known in Japan long before the rest of the neighboring countries.
Buddhist monks began using tea to fight sleep during their meditations.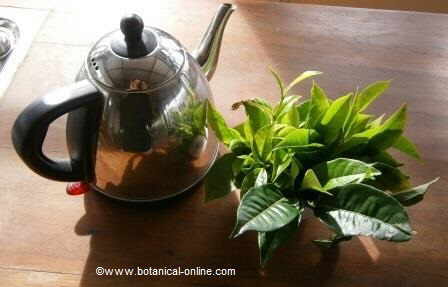 Photo of tea infusion (Camellia sinensis).
Japanese Tea Ceremony
The Tea Ceremony (Cha – No – Yu), is a ritual performed around the tea in Japan.
This ceremony began in China during the Song Dynasty. At this time, people started making tea parties (called Song Ceremonies), which in Japan later become the practice of the Tea Ceremony.
At the Japanese Tea Ceremony food and different types of green tea powder are served. This ceremony can last up to four hours, in which the aesthetics and serenity is present. The ways of serving tea are carefully prepared according to tradition.
Sencha tea is usually used for this ceremony.
JAPANESE TEA CEREMONY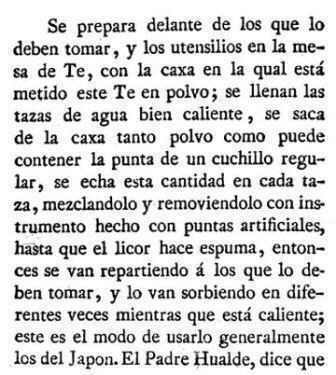 Story of "Treaty of uses, abuses, properties and virtues of tobacco, coffee, tea and chocolate", written by surgeon Antonio Lavedan and published in Madrid in 1796.
Properties of Japanese tea
– Japanese teas are mainly green teas.
– Some of these teas, unlike other tea sources, are made with the branches and leaves of the tea plant. This is the reason why Japanese teas are mineralizing teas, low in caffeine and chlorophyll and with a more pronounced flavor.
– The Japanese tea is especially rich in magnesium, calcium, potassium and fluorine.
– Being teas with many minerals and little caffeine, they are used to treat sleep disorders (magnesium is a natural muscle relaxant) and containing little caffeine, they have a tonic effect on the nervous system.
– Many of these teas are given to children and the elderly.
– The most popular teas are Bancha, Kukicha, Sencha and Genmaicha. Gyokuro tea and green tea powder are, however, very high in caffeine and have the same indications.
– Given its excellent quality, aroma and flavor, Japanese teas are not generally served either with milk or lemon, or sugar.
Types of Japanese teas
– Green Tea: Japan produces a wide range of green teas, which are the most commonly taken in the country. Japanese green teas are called ryokucha. The main ones are the following:
– Bancha Tea : Also known as the tea of the poor, as it is the cheapest of Japan and for this reason it is the most consumed in restaurants, gas stations, at work, etc.. In Japanese, Bancha means " late harvest ", because it is made from the leaves left over from the first harvest and buds from late autumn.
– Gyokuro tea: It is the most prestigious and expensive type of ryokucha in Japan. Grown in coastal areas, it is sweet, with a delicate flavor and with no astringency, somewhat reminiscent of the algae.
– Kukicha Tea (three years tea): It is a very popular tea in macrobiotic cooking. This is a tea made from the stems and twigs of the tea plant. Its caffeine content is the lowest of all teas.
– Sencha Tea : A tea of high quality, the most taken in Japanese homes. It has been prepared from the leaves of the first harvest of the year, in spring.
– Matcha (green tea powder): powdered green tea used in the Japanese Tea Ceremony. In the West, a similar product (although mixed with sugar) is used primarily to prepare tea recipes like truffles, ice cream or jelly, because of its dyeing properties. However, in Japan there are many grades of Matcha tea, which is carefully prepared with stone mills.
– Genmaicha : peculiar tea from Japan. It is a green tea base (usually Bancha or Sencha tea) mixed with roasted brown rice. In English it is known colloquially as Popcorn tea, because rice has puffed corn appearance.


More tea types and information about tea.
This article was endorsed by
Montserrat Enrich
- Journalist specializing in edible wild plants and plant uses.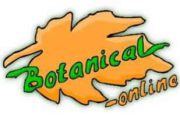 Written by
Editorial
Botanical-online team in charge of content writing