WHAT TO EAT IN CROHN'S DISEASE
Diet for Crohn's disease
FOOD AND CROHN'S DISEASE
Recommended food for crohn's disease
Diet plays a key role in monitoring Crohn's disease. A proper diet can help the patient to distance attacks and make these less severe when they occur.
It has been proven that following a proper diet can reduce the amount of drugs of Crohn's disease patients, due to the improvement that most of them experienced in the intestine.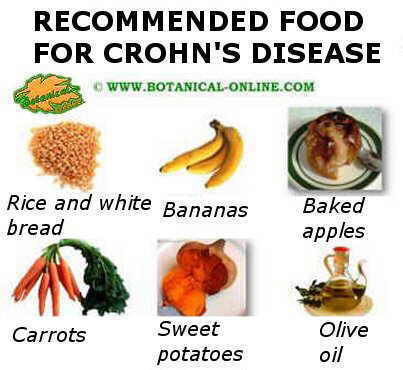 Some recommended foods for Crohn's disease
Special needs in Crohn's disease
Intestinal malabsorption of those who have Crohn's disease typically causes deficiencies of vitamins and minerals. A proper diet will help remedy these shortcomings.
ADEQUATE FOOD FOR CROHN'S DISEASE
Among the most recommended foods, we can mention the following:
Cereals for Crohn's disease
Cereals provide high amounts of energy, in the form of carbohydrates, zinc and B vitamins that strengthen the nervous system. They have demulcent properties that help to reduce inflammation of the digestive mucous membranes, so they should be taken daily.
Tubers and roots for Crohn's disease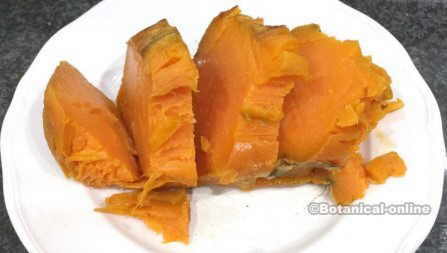 Sweet potatoes are very good for Crohn's disease
Tubers provide energy and are easy to digest. They have, like cereals, B group vitamins that help strengthen the nervous system.
Fruits and vegetables for Crohns's disease
In general, fruits and vegetables are suitable because they can help to replace the deficiency of vitamins and minerals. Between vitamins that are often lacking we find vitamin C, vitamin K and many vitamins of the B complex.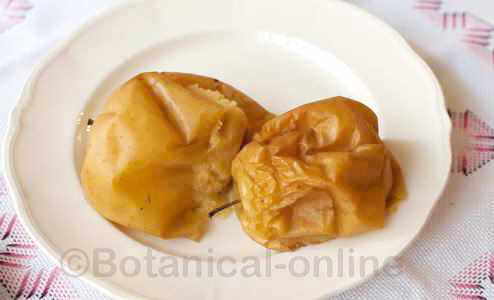 Baked apples are recommended in Crohn's disease diet
Dried fruits and nuts for Crohn's disease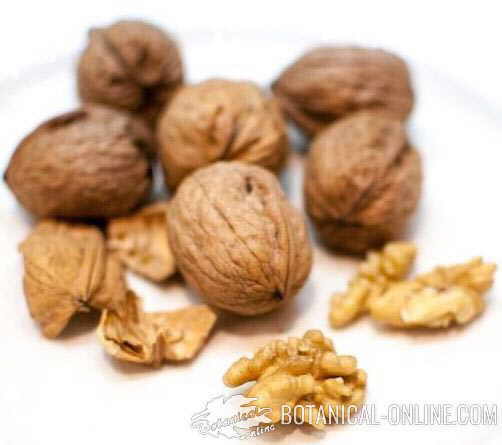 Some patients of Crohn's disease accept nuts in their diet; other do not tolerate them
Dry fruits and nuts can provide much calcium, a mineral that the patients with Crohn's disease absorb very badly. However, many patients tolerate poorly these foods and therefore each one should be tested individually if any of them makes the patient feel bad. Peanuts, for example, are often poorly tolerated.
Healthy fats for Crohn's disease
Excess of fats can increase laxative effects and should moderate during these periods. Taken in moderation, these foods will have very beneficial effects by providing high doses of vitamin E, which helps to reduce inflammation and restore digestive mucous membranes.
Sources of calcium and proteins in Crohns's disease
Milk and its derivatives are a good source of calcium.
Can I take salt?
Of course you can. People with Crohn's disease can and should eat with salt because it provides good doses of sodium, important to compensate for the imbalances that occur during outbreaks of diarrhea.
In case of suffering from heart disease, hypertension, or taking medication for varicose veins or poor circulation, medical control must be strict.
* Go on reading: Non recommended food for Crohn's disease

More information on Crohn's disease in the listing above.
Other interesting articles
This material is for informational purposes only. In case of doubt, consult the doctor.
"Botanical" is not responsible for damages caused by self-medication.