Medicinal plant remedies for obesity
Natural herbal treatment to treat obesity
NATURAL TREATMENT FOR OBESITY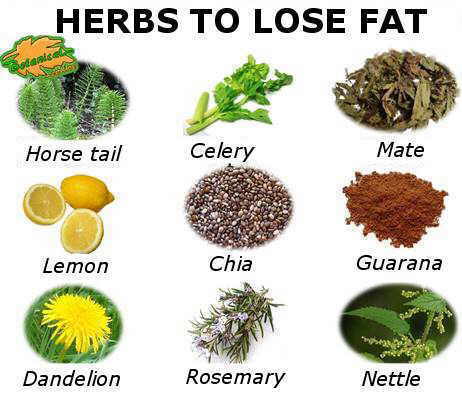 Some of the herbs used for the treatment of obesity. The plants used help to lose fat when accompanied by a diet to lose weight. © Botanical-online.com
Medicinal plants, vegetarian food and natural alternative therapies to lose weight
The natural treatment of obesity consists in the use of a series of remedies with plants and foods whose function will consist on:
Diuretic plants for the elimination of body fluids by stimulating renal function. Diuretic plants, which increase urine to remove more fats, will be indicated.

Depurative plants, with components that increase the fat burning or fat metabolism.

Fiber rich foods: It has been proven that fiberrich foods, taken regularly, help to eliminate fat and lower cholesterol.

Food supplements, supplements with properties to burn fat.
Phytotherapy. Plant preparations for obesity
Plant preparations with diuretic plants are the most indicated remedies for the elimination of exceeding body fluids. Diuretic plants act by means of the stimulation of renal function. Diuretic plants are those that increase the flow of urine. Among the most significant ones we can mention: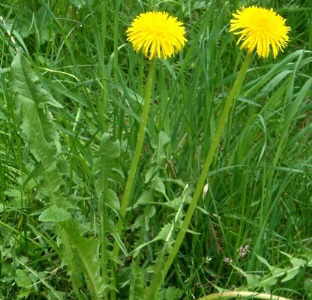 Dandelion leaves and roots are very diuretic, so they can serve to combat obesity
Dandelion (Taraxacum officinale) (Decoction for 1 / 4 hours of a handful of dried roots and leaves in half liter of water. Take a cup before each meal.) (Salad of fresh leaves)

Cabbage: (Brassica oleracea) (Decoction for half an hour of a mixture of tender leaves of cabbage, tender onion and tender celery. Drink the broth at discretion several times a day)

Field horsetail (Equisetum arvense) (decoction for 30 minutes of 100 g. of the dry plant per liter of water. Take a couple of cups a day) (2 tablespoons of fresh juice diluted in water per day) (3 grams of fluid extract daily. It is sold in pharmacies and herbalists)
Being a plant with so powerful diuretic properties, its use could cause problems in blood pressure, so we recommend checking with your doctor beforehand. It should not be used during pregnancy or lactation.

Field horsetail is one of the most diuretic plant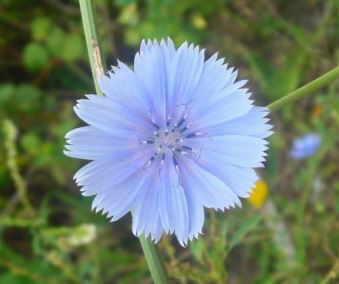 Chicory flower
Meadowsweet flowers still in bloom
Plant foods to lose fat
Diet plays a key role in losing fat. In addition to a balanced diet, there are a series of highly cleansing plant foods that are advisable to introduce to a diet to lose fat, among which are:
Asparagus (Asparagus officinalis): Asparagus are very diuretic and highly nutritious vegetables, because of their high content of vitamins and minerals. They are especially recommended in cases of fluid retention, heart problems, sedentary work, rheumatism, obesity, arthritis, etc. (Eat steamed asparagus, boiled or in vegetable creams)

Photo of

steamed asparagus

, a very depurative recipe given the diuretic components and the high vitamin level of these vegetables.

Artichoke (Cynara scolymus): Vegetable with diuretic and depurative properties, high fiber content and regenerative effects of the liver. (Eat steamed, boiled, or pureed artichokes)

Garlic (Allium sativum): Garlic is a good diuretic food. It favors the elimination of body fluids, being very suitable in cases of rheumatism, obesity, edema, etc. (Take garlic regularly in food)

Watercress (Nasturtium officinale) (Eat in fresh salads)

Celery (Apium graveolens): This vegetable is one of the main diuretics for its richness in essential oils. (Take celery juice) (Masticate the celery trunk) (Add celery leaves to the salads).

Rice (Oryza sativa) A balanced diet with brown rice helps reduce weight.
Supplements for obesity and fat burners
NATURAL ALTERNATIVE THERAPIES FOR WEIGHT LOSS
Essential oils for obesity
In aromatherapy, essential oil of geranium or essential oil of incense, for its diuretic properties, are suitable for the treatment of obesity.
Homeopathic remedies for obesity
Homeopathy has different homeopathic remedies to regulate appetite.
Lymphatic drainage to lose fat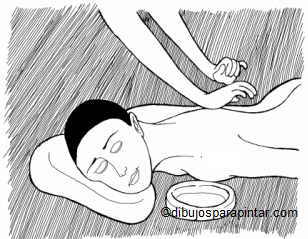 Lymphatic drainage helps to decrease the volume and drain the fluid accumulated in the body.
Lymphatic drainage alone will not work against obesity, but specifically in people who along with obesity present cellulite, regular practice of manual lymphatic drainage sessions will be of great help.

More information on obesity natural treatment.
Other interesting articles
This material is for informational purposes only. In case of doubt, consult the doctor.
"Botanical" is not responsible for damages caused by self-medication.