Herbal treatment for diarrhea
Phytotherapy: Medicinal plant preparations with astringent plants for diarrhea
Phytotherapy plant focuses on the application of plant preparations with astringent properties (More information about astringent plants)
Main astringent plants
Yarrow (Achillea millefolium) (Infusion of a tea spoonful of floral summits by each glass of water. Drink a couple of cups a day.)
Carob tree (Ceratonia siliqua) (Decoction of the bark)
Stevia (Stevia rebaudiana) Stevia is very effective in combating harmful bacteria that can cause diarhea (Infusion of 1 tsp stevia per cup, three times daily)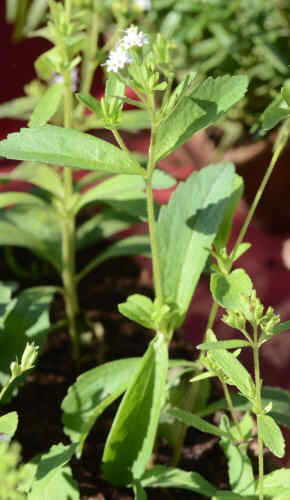 Photo of the stevia plant.
Rice (Oryza sativa) (Drink rice water)
Agrimony (Agrimonia eupatoria) (Infusion of dry leaves)
Vervain (Verbena officinalis) (Infusion of a teaspoon of dried plant per cup of water for 10 minutes. Drink 2 cups a day.)
Guarana: (Paullina cupana)
Guanabana or soursop (Annona muricata) Green fruits. On the contrary, mature fruits are used as a remedy for constipation.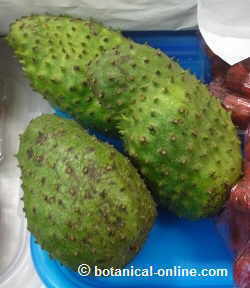 Guanabana or soursop
Barley (Hordeum vulgare) (Take three glasses of barley water)
Goldenrod (Solidago virgaurea) (Infusion of flowering tops 1 teaspoon per cup, let stand 5-10 minutes -for the tannins to be released in the water Take 2-3 times a day.)
Black thorn or sloe (Prunus spinosa) (fruit jams) (Decoction of the fruits. Drink the desired quantity)
Nutmeg (Myristica fragrans) (Take one capsule sold in herbal stores)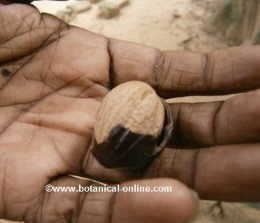 Photography of nutmeg seed, which is ground and used as a spice
Hawthorn (Crataegus spp.) (fruit jams) (infusion of dried flowers)
Bearberry. (Artostaphylos Uva-Ursi) See contraindications in the complete study of this plant.
Blueberry (Vaccinium sp.) Blueberry tincture.
Cranberry (Vaccinium ssp.) (Decoction of the fruits)
Meadowsweet (Filipendula ulmaria) (Do not use in children under 12 years). (Infusion of of flowers)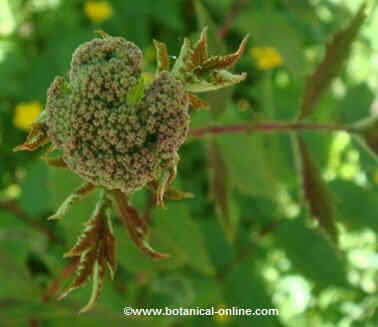 Meadowsweet flowers still in bloom
Clove (Eugenia Caryophyllata (oil of cloves)
Chestnut: (Castanea sativa) (Decoction of the bark)
Walnut tree (Juglans regia)(Decoction of the bark)
Horse chestnut tree (Aesculus hippocastanum)
Cypress (Cupressus sempervirens) (20 drops of tincture on sale at pharmacies and herbalist'ses before the three main meals)
Oak (Quercus spp.) (Decoction of the bark)
Psyllium:(Plantago psyllium) (Seeds in water overnight)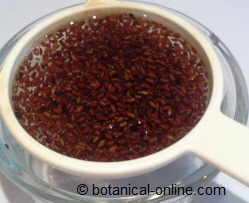 Psyllium seeds
Holm oak (Quercux ilex) (Decoction of the bark) (Eat fresh sweet acorns)
Kermes oak (Quercux ilex subs. rotundifolia) (Decoction of the bark)
Yucca (Yucca filamentosa)(Take extract capsules according to leaflet's patient)
Plantain (Plantago spp.) (Infusion of leaves)
Blackberry (Rubus spp) (Decoction of dried leaves)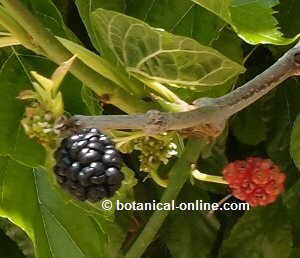 Blackberry
Nettle (Urtica dioica) (Decoction of the root)
Lentisc (Pistaccia lentiscus) (Infusion of the stems and leaves)
Marshmallow (Althaea officinalis) (15 ml tincture a day divided in three doses – on sale at pharmacies and herbalist'ses)
Mint: (Menta spp.): (Infusion of the dried plant)
Birch: (Betula alba) (Decoction of the bark)
Strawberry (Fragaria vesca) (Decoction of the leaves)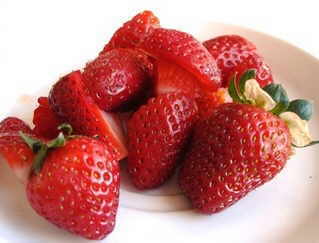 Strawberry
Raspberry (Rubus ideaeus) (Decoction of the leaves)
Papaya (Carica papaya) (eat fruits)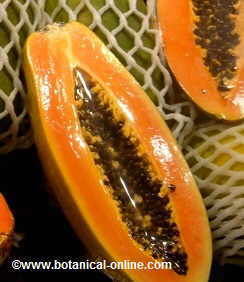 Papaya
Sundew (Drosera spp.) (Infusion or extract)
Dog-rose (Rosa canina) (Decoction of the fruit)
Loosestrife (Lythrum salicaria) (Infusion of dried flowers)
Salvia (Salvia officinalis) (Infusion of dried leaves)
Vine: (Vitis vinifera): (decoction for 1 / 4 hours of three tablespoons of shredded dried leaves per liter of water. Take 2 or 3 glasses per day)

More information about diarrhea natural treatment in the listing above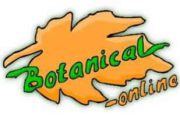 Written by
Editorial
Botanical-online team in charge of content writing