How to cook carob
CAROB FLOUR IN THE KITCHEN
What is carob cream?
The cream of carob spread that we propose here is prepared without refined sugar, with natural and very nutritious foods.
Carob cream is a much healthier alternative to industrial chocolate creams that can be found in supermarkets, because it contains high quality ingredients, provides more fiber and more magnesium, without being a processed food or containing hydrogenated fats.
Carob nutella
This recipe is a homemade Nutella, very easy to prepare, with no added sugar, no gluten and no milk, suitable for celiac and vegans.
It is an energetic and nutritious alternative for the breakfast or snack of children, youth, athletes, women in pregnancy, etc.
Since it does not contain cocoa, carob cream has no stimulant effects, so it is more advisable for the hyperactive children's diet than chocolate creams.
This recommendation extends to people with nervousness, insomnia or hyperactivity, who are not recommended to use industrial products, with sugar or with stimulants such as cocoa.
Ingredients for carob cream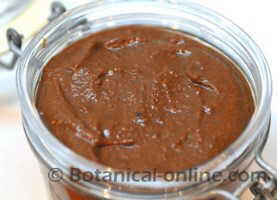 Photo of carob cream
100g of carob flour
200g of raw or roasted hazelnuts (without salt and without frying) (If you do not have hazelnuts, you could also make it with another nuts like dry almonds. Another option is to prepare it only with dates and cocoa powder).
200cc (1 glass) of water or vegetable drink (oat milk, rice milk, etc.)
It is necessary to have a kitchen appliance such as turmix, shredder, thermomix or similar.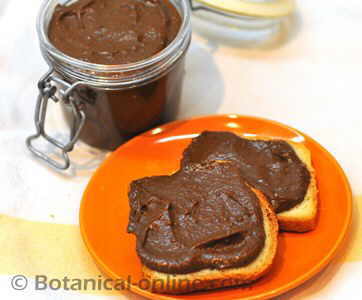 Photo of carob cream
How to prepare homemade carob cream
The preparation of this recipe is very simple:
In a bowl the hazelnuts are crushed with oats milk (or water).
Little by little, it is added sweet food that will make of natural sugar, such as dates (or bananas, or raisins). It should be kept in mind that carob is very sweet, so the sweetness will increase when adding this ingredient. Just as cacao creams accept much sweetness, it is necessary to be cautious with carob and not to add too sweet ingredients.
The result is a thick cream, pale and very sweet. Only this cream is already delicious! It can be reserved for later to make a cream of two colors (with and without carob).
Finally, add carob flour to the cream, about 100g or a little more (to taste) and mix well until it forms a homogeneous mass. You can add more or less amount of carob to obtain the desired sweetness.
It is kept in the refrigerator, for a maximum of approximately 3-4 days.
Serve on toast, pancakes, bread,…


Photo of the recipe before and after adding carob. You can make a cream of "two colors" using part of the cream with carob, and another part, without the carob.
BENEFITS OF HOMEMADE CAROB CREAM
Properties of carob cream recipe
The recipe can be prepared as described here, or only with dates and carob powder. Anyway, it is a very energetic recipe, rich in the natural sugar of the dates, and fats of the hazelnuts.
But it is also a very nutritious recipe, for its great contribution in insoluble fiber magnesium, riboflavin, calcium, phosphorus and folic acid.
The main ingredient, hazelnuts are very rich in vitamin E, with antioxidant properties, which prevent aging, and provide a good state of skin and heart. They also contribute a lot of minerals, fiber and vitamins.
Carob is a food rich in calcium, soluble fiber, with properties to improve digestive mucous, lower cholesterol and avoid constipation.
Carob cream a special food for children and athletes
This homemade carob cream is a good source of energy for children, allowing them to continue playing for a long time without feeling the sensation of tiredness.
Since it does not contain cocoa, carob cream has no stimulating effects, so it does not cause nervous overexcitation.
For athletes, this cream gives them all the energy and nutrients needed to perform at their maximum, and the very high magnesium content makes it suitable even for recovery after exercise.
It highlights the high content of glutamine in dates, an amino acid with which the body makes a powerful antioxidant of the body: glutathione.
Unlike industrial creams, this recipe gives us a lot of fiber, which will help to better assimilate the sugar it contains and prolong the feeling of satiety.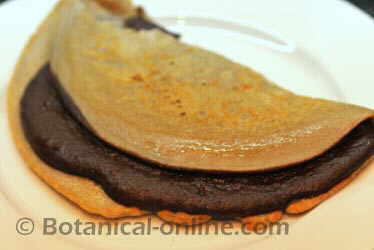 Gluten-free crepe with buckwheat, filled carob cream
Recipe variations
You can prepare the recipe with different variations:
Use different nuts, such as walnuts, almonds, macadamia nuts, or a mixture of several (Brazil nuts, cashews,…).
Use banana or avocado instead of dates.
Only with banana and cocoa, or with dates and cocoa, without nuts.
Substitute cacao for carob
Add cinnamon
Sugar free: Only with nuts, vegetable milk and cocoa. You can add some agave syrup, sugar, cereal molasses, etc. Use stevia infusion instead of water, so you do not have to add any sugar.
Why is a homemade "cacao" cream better than those sold in food stores?
In general, it is preferable to consume this type of homemade creams because they contain a much better nutritional value, because unlike the industrial ones, these have higher quality ingredients, and also contain many more minerals and vitamins.
By containing natural fruit sugar, it is absorbed much better than refined sugar. This is because, in fruits, the high sugar content is accompanied by a lot of fiber, which improves the assimilation of carbohydrates. Therefore, the physiological effect will always be better when the sugar comes from a natural food.
Most industrial chocolate creams contain industrial palm or coconut oils, rich in saturated fats and sometimes hydrogenated fats. They also contain a very high amount of refined sugar.
All these components in the body produce difficulties in digestion (much sugar) and metabolism (trans fats are harmful to cardiovascular health). In addition, ingredients such as palm or coconut oil often come from unsustainable crops, which cause deforestation in tropical forests.
Homemade carob cream is very easy to make at home, with local and quality food.


More recipes and information on carob.
This article was endorsed by
Elisenda Carballido
- Dietitian nutritionist. Postgraduate in Phytotherapy and master in Nutrition and Metabolism.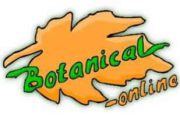 Written by
Editorial
Botanical-online team in charge of content writing