Tomato, one of the main antioxidants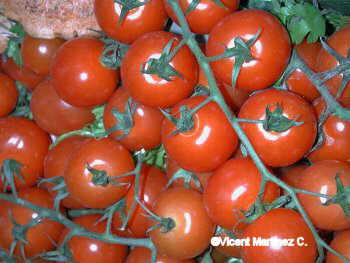 Photo of tomatoes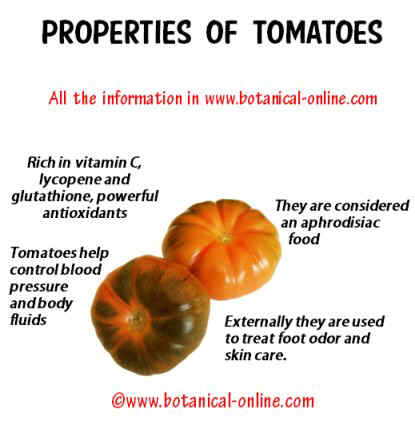 Main curative properties of tomatoes

Lycopene in tomatoes.
Tomatoes constitute an excellent food for those who want to adopt a natural diet. They present in their composition a series of elements very appropriate to detoxify the organism and to prevent the appearance of many illnesses:

The first of them is denominated lycopene, a component to which tomato owes its red colour, with similar properties to the betacarotenes of the carrots it has anticancerous properties . Lycopene seems to reduce the probabilities of many cancers, such as those affecting the prostate , the lungs, the stomach, the bladder, and the uterus.
Lycopene appears in fresh tomatoes, but especially in cooked ones , since cooking helps to liberate this element and to facilitate the absorption by the organism. Eating tomato in Ketchup or any other food cooked with tomato sauce can constitute a good way to take care of health, preventing cancer, or reducing cholesterol.

Glutathione in tomatoes.
Glutathione is another component with proved antioxidant properties that helps to eliminate free radicals, responsible for the appearance of many illnesses, among those, the most terrible one: cancer. This element, that appears with the biggest quantity in broccolis, is fundamentally in the skin of vegetables, so that we should eat tomatoes raw in salad.
Glutathione is a very appropriate element in the elimination of the body toxins , especially of heavy metals that produce deterioration of the organism by its accumulation. Tomato has been proved to help to eliminate lead efficiently. Other rich foods in this component are: garlic, potato, spinach, corn or portulaca. Besides this property, we should stand out its capacity to lower blood pressure , to favor the good state of our liver or to prevent eczema.
Antioxidant vitamins in tomatoes.
Other beneficial components to detoxify the organism are vitamin C and vitamin A. Tomato is very rich in both of them.
Vitamin A was the first to be discovered in 1913. It helps the body to attain cellular growth, to maintain the bones and the teeth in good state, to help the immunologic system to combat infections, and to maintain sight in good state. When it was discovered, it was thought that one could only obtain it from animals, from their liver and from their eggs. But it took a long time to be discovered that it could also be obtained from carotenes and especially from beta-carotene that is especially in many vegetables.
Vitamin A is an essential vitamin whose daily dose is established between 4000 - 5000 IU . Higher doses in a continuous intake can be toxic, producing a state of hypervitaminosis that appears as muscular weakness , blurred vision, hair loss, bad skin, diarrhea ...etc. Complements of vitamin A should not be given to pregnant women to avoid that anomalies to the fetus could take place.
Vitamin C is a powerful antioxidant because it promotes the elimination of free radicals generated by the body itself, as well as those coming from abroad.
It has been proven the ability of this element to remove pollutants that enter the body. The ingestion or inhalation of products can cause serious health problems, especially to the liver, kidneys and nerves.
For example, lead ingestion through polluted water increases blood pressure in people older. In many places the pipes that carry water are still made from lead. This mineral is dissolved in water and incorporated into our body, producing, among other problems, hypertension.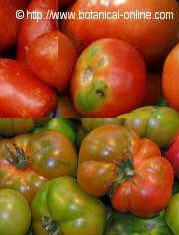 Photo of different varieties of tomatoes
Tomatoes help in the control of hypertension and liquid retention
Tomatoes are very rich in potassium, a mineral that intervenes in the regulation of the corporal liquids as well as in the good state of the nerves, the heart and the muscles, together with the calcium, very abundant also in the tomato.
Tomato is considered to be a good aphrodisiac since it has been proved that eating fresh tomatoes increases sexual desire.
Because of its water content and its richness in minerals, tomato juice is ideal for the treatment of lost fluids and minerals caused by excessive heat. ( Squeeze several tomatoes and drink the juice. Add a little salt)
Other healing properties of tomato

It can aid cuts, scratches, scars or wounds of any type and to heal or lower inflammation . (Crush a tomato leaf and apply it as a poultice on the wound. The fruit also has similar properties, so you can apply tomato pulp on the wounds to remedy them.)
To prevent feet odor , you can apply a 20 minutes feet bath in a couple of liters of warm water in which a litter of tomato juice has been added .
Tomato juice with a little salt is ideal thirst quencher on days with high heat. Equally useful to recover or avoid heat problems, like cramps that occurs in the legs or arms and heat exhaustion. (Crush several tomatoes and drink the juice with a little salt, except if you have hypertension).
Toxicity and contraindications of tomato



The plant that produces tomatoes is a member of the Solanaceae family. . Like other species of this family, the whole plant is poisonous, other than its fruits, the tomatoes. So you can not eat the stems, leaves or stems of the fruits not to become intoxicated . The effects are similar to those that occur when taking the potato plant (For more information on the toxicity of potatoes)

The tomato is the only edible part of this plant with medicinal properties and outstanding food properties . However, must take into account a number of rules and possible complications when eating this fruit
* More information: Tomato toxicity, contraindications and side effects of tomato.lved.