Diet for COPD
Food for Chronic Obstructive Pulmonary Disease
RECOMMENDED DIET FOR COPD
How should the diet for COPD be?
The recommended diet for COPD or chronic bronchitis is a diet based on natural, nutritious and energetic foods that provide all the necessary requirements to help improve the health status of the body.
It will also include a series of foods with bioactive components that provide antibiotic, anti-inflammatory and antioxidant properties that can improve the symptoms of the disease.
Increase the energy supply with quality food
The diet should be adequate in calories, as it has been shown that these patients have a hypermetabolic state. Energy needs are increased by the effort of the thoracic musculature during breathing. We recommend a healthy diet, and increase calories according to diet tolerance with dense natural foods in quality energy.
For inappetent and elderly people, it is very appropriate to dress the dishes with a good virgin olive oil t to increase its energy value and to provide healthy fats.
If obesity exists, it is advisable to take more care of the quality of the food in the diet to avoid gaining weight, which would worsen the progression of the disease and decrease the quality of life.
For this it is recommended to avoid the consumption of foods with high glycemic index such as bread, pasta and foods with added sugars.
Avoid excess of added sugars, flour, bread or pasta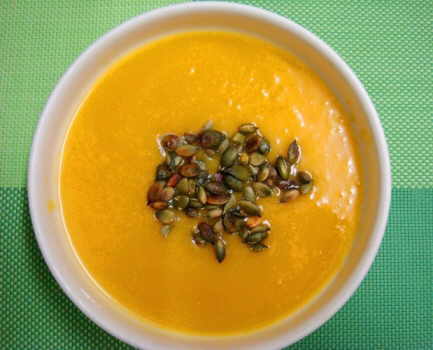 Photo of cream of carrots. It is very nutritious, energetic and is demulcent, which makes it suitable for bronchitis
During metabolism, carbohydrates produce more CO2 than fats, so you should avoid overloading meals with these foods. The digestion of carbohydrates produces a lot of CO2 and causes the lungs to have to remove large amounts of this gas.
It is preferable to consume unrefined complex carbohydrates such as potatoes, sweet potatoes, lentils, oat flakes, rice, buckwheat or chickpeas.
Foods that provide energy
The diet should contain oils (olive oil, hazelnuts, walnuts, almonds, chia seeds, flax,...) and contain balanced carbohydrate rations (dish of legumes, rice, etc.), especially moderating the bread, biscuits and products with added flours and / or sugars.
Protein supply at all meals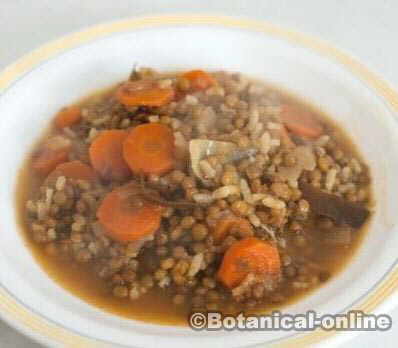 Photo of vegetarian lentils
Protein is essential to maintain respiratory muscles. It is worth mentioning that breathing exercises also contribute greatly to improved breathing (consult with an experienced physiotherapist).
The protein requirements of these people are similar to those of the general population, but often these people feel tired and forget to take protein-containing foods usually in their meals, especially in the case of elderly people with financial problems or chewing defficiencies. Protein foods should be present at all meals.
The most recommended protein-foods are: fish and especially small oily fish, as it also provides omega-3 fats with anti-inflammatory properties. They are also sources of protein: tofu, tempeh, legumes, eggs and white meat.
Lack of protein in the diet can lead to malnutrition of these patients, and occurs in both obese and thin people.
* More information: Protein rich foods
Poor salty diet for COPD
Salt intake should be reduced, especially if the disease is advanced. Poor ventilation causes hypertension in the lungs. Excess salt can aggravate this situation.
It is always more convenient, both in healthy and sick people, to use more herbs than salt to maintain the sodium-potassium balance of the diet and avoid aggravating hypertension.
This recommendation should be more stringent when taking medications for hypertension, in which case it is recommended to take little salt and increase the consumption of foods rich in potassium such as herbs, legumes and bananas.
Vitamins and minerals for COPD
There is a beneficial relationship of vitamin C, vitamin E and beta carotene on lung function due to its antioxidant effects.
It is interesting to eat foods rich in vitamin C for its role in improving the immune system, as people with COPD are more prone to respiratory infections. This vitamin is found in great concentration inside the leukocytes, the defensive cells of the body.
* More information: Vitamin C for the defenses
Dietary recommendations for people with COPD
Eat sufficient amounts of energy, choosing the quality ones
Many people with COPD feel fatigued, depressed, and moodless, which means they eat fewer meals or skip meals. For this, soft cooking is recommended, since they are less satiating and can be eaten larger quantities. For example, vegetable creams (with potatoes and oil), boiled potatoes with vegetables (with oil), etc.
Very energetic foods are nuts and some fruits, among which nut, banana, avocado and pure cocoa (80% or more) are especially recommended.
In cases of high inappetence, you can even add 1 tablespoon of virgin (unrefined) oil in the yogurts and mix well for 4 minutes. The taste is not noticeable and instead, it provides energy and vitamin E.
Recommended foods for COPD: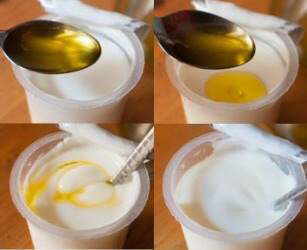 People who eat little can add 1 teaspoon of oil in the yogurt, so that it contains more energy

Increase the contribution of fruits and vegetables
Fruits and vegetables are rich in vitamins, minerals and beta-carotenes, as well as low in fat and carbohydrates. Phytonutrients in these foods contribute to improving the health of the alveolar walls of the lungs. Examples:

Recommended diet for COPD or chronic bronchitis, with the most advisable foods.
Anti-inflammatory herbs
The most anti - inflammatory plants are present in our daily diet, since they are aromatic herbs and spices: rosemary, sage, savory, lemon balm, oregano, thyme, basil, anise, caraway, cumin, celery, etc.
Infusions and fumes (vaporizations) of these plants will also be advisable for bronchitis by helping to dissolve the mucus and expel them. Pure essential oils should not be used, which are totally contraindicated.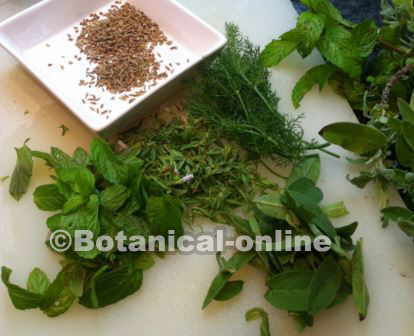 Photo of aromatic herbs

Two other spices that deserve mention for their anti-inflammatory power are:
Combine with a pinch of black pepper to increase the absorption of its principles. Powdered spice: be careful not to inhale !!!
Avoid spicy spices that may cause coughing. If a spice or herb causes coughing, do not take it.
Foods NOT recommended for COPD
If you take antibiotics or many medicines:
If medications are taken, a diet with food to improve intestinal flora and probiotic supplements may be desirable.

More information on COPD characteristics, remedies and diet in the listing above.
Other interesting articles
This material is for informational purposes only. In case of doubt, consult the doctor.
"Botanical" is not responsible for damages caused by self-medication.