Foods for a healthy heart
FOODS TO PREVENT A HEART ATTACK
How to prevent heart attacks by means of a healthy diet?
DIET plays a key role in monitoring heart health by helping to prevent the causes and factors that predispose to heart attack, which are mainly diabetes, obesity, high cholesterol and hypertension.
Heart health and obesity
Alcohol and heart health
Smoking and heart health
We would have to take into account the following dietary advice:
Treatment of heart health
Cardiovascular diseases occur without warning, that is why arteriosclerosis (accumulation of cholesterol in the arteries) is known as "silent disease": symptoms occur when advanced disease has taken place.
Below you can find a series of tips to improve or maintain heart health and prevent their diseases. For the proper treatment of the disease, a multidisciplinary team is recommended that includes the doctor, a nutritionist and a physiotherapist.
Recommended foods for heart health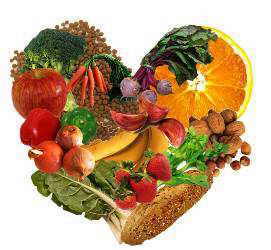 Fruits, vegetables, legumes, nuts and whole grains are good for the heart
The recommended for heart health is a healthy diet with natural foods, enhancing vegetables, fruits, legumes, foods rich in omega 3 and aromatic herbs.
Also, it is very beneficial and, therefore, it is important: stop smoking, not to consume alcohol and avoid sedentary lifestyle.
What kind of diet is best for heart health?
Numerous studies have shown that the Mediterranean diet is one of the best for heart health. Its consumption has been shown to reduce the risk of cardiovascular diseases and accidents by more than 30%.
Remember that the Mediterranean diet consists of a diet rich in vegetables, fruits, legumes and nuts every day, with the consumption of olive oil.
The DASH diet is another type of recommended feeding, very much in line with the Mediterranean diet.
Vegetables are specially recommended for heart health
Among the most recommended food for heart health we have the vegetables group. they provide different principles that improve circulation, lower cholesterol and cleanse the blood of toxins that damage the heart and blood vessels. (More information)
Foods with healthy fats for the heart
Healthy fats, specially unsaturated fatty acids, are most recommended in the diet for the heart. It is not recommended to avoid fats,even in case of obesity, because they are very important for the proper functioning of the heart, since the heart is an organ that uses fats as an energy source. (More information)
Legumes and whole grains for heart health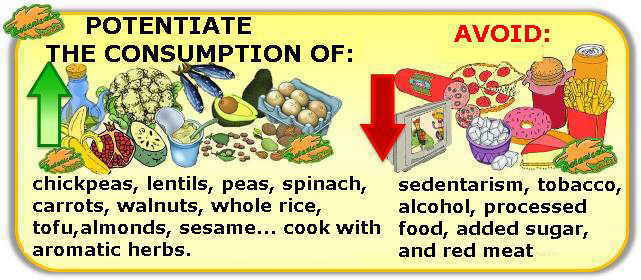 Summary sheet on the most recommended heart-healthy foods and foods that should be avoided. Drawings courtesy of©Dibujosparapintar
Legumes are VERY advisable foods for the health of the heart. It is recommended to eat legumes at least 3 times a week: chickpeas, peas, lentils, … some recipes: chickpeas with spinach, lentil salad, …
Eating legumes is a better option than white rice, bread or pasta, since they have low glycemic index and help control blood glucose, being especially recommended if there is diabetes or obesity.
There are many false myths about legumes consumption:
– It is false that they are bad for diabetes
– Legumes can not be eaten almost every day
– They do not have to produce many gases .
Whole grains for the heart
Whole grains are the most recommended for all healthy diet. These include: brown rice, oat flakes (which can be eaten in the form of oat porridge, etc. Extruded cereals ("breakfast") are not recommended.
The aromatic herbs do not appear in any official food pyramid but nevertheless they are very interesting components to improve health. Besides, they are cheap, and they can easily be introduced into our diet.
These condiments are very suitable because they are the richest sources of potassium in our diet.
In nature, all foods (including meat and fish) contain much more potassium than sodium (salt). Adding salt to all foods and eating few vegetables leads to a great sodium-potassium imbalance that ends up producing hypertension.
It has been shown that increasing potassium in the diet has more benefits for hypertension than just decreasing salt. To all these benefits, the anti-inflammatory and antioxidant properties of the aromatic herbs are added. Therefore, and in summary: Use more aromatic herbs and less salt!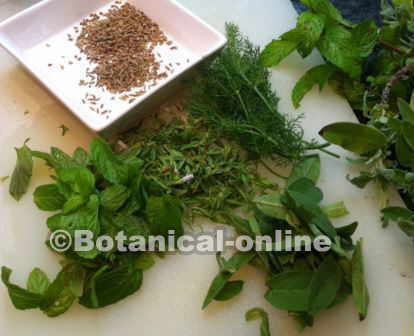 Photo of aromatic herbs, cumin, oregano, basil, fennel
Plants to improve hypertension and heart health
Among the most interesting aromatic herbs and spices that can be incorporated into the diet, are sweet bay, garlic, onion, thyme, rosemary, mint, cumin, savory, oregano, basil, etc.
In smaller quantities (because they are more powerful), tropical spices such as cinnamon, ginger, turmeric and pepper are recommended.
What foods with protein are recommended?
For a healthy diet, the ingestion of proteins of both animal and plant origin is recommended. It is important to insist on the importance of vegetable proteins, because the foods that provide them are more nutritious than meat:
Legumes and nuts are good sources of protein, since they also contain a lot of fiber, omega 3, omega 6, B vitamins (except B12), and provide many micronutrients, such as calcium, magnesium and potassium.
Blue fish or fatty fish is highly recommended for its content in EPA and DHA, a type of omega 3 that is only found in fish and is very beneficial for the heart. Small fish are recommended because large fish (such as salmon or tuna) are heavily contaminated by heavy metals.
It is recommended three meals a week of oily fish for those who have some type of heart disease.
White meat is an interesting source of protein.
Red meat is not recommended because it produces nitrosamines (endogenous nitrosamines), compounds closely related to stomach and colon cancer. In addition, consuming red meat is becoming a major ecological problem (less natural resources are spent raising a chicken than a veal or a pig). Therefore, it is recommended not to eat this type of meat.
In case of vegetarian diets, it is important to take vitamin B12 supplements, although dairy and eggs are consumed.
Dairy products that are healthy for the heart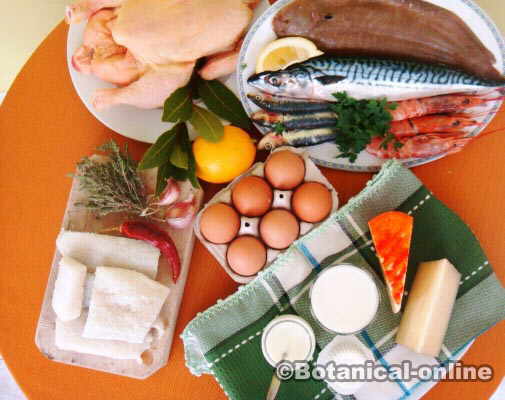 Photo of dairy, among the most recommended, yogurt and dairy
Dairy products are a group of nutritious foods that provide many proteins, calcium and B vitamins (including B12). This mineral is necessary for muscle contraction, and therefore, it is needed for the proper function of the heart muscle.
It is recommended that people with heart problems consume dairy or other important sources of calcium, such as calcium-enriched plant drinks, as well as a diet rich in nuts (almonds, sesame, …). It should be noted that tofu is also a protein source rich in calcium.
The most recommended dairy products, for their nutritional value, are: yogurt (see a homemade recipe to make it at home) and cheeses.
Eggs for the heart
Eggs contain a lot of cholesterol, but they do not increase it, as the new studies show (more information).
Therefore, you can usually consume egg . It is recommended with vegetables, such as a spinach or artichoke tortilla.
Other foods recommended for the heart
As has been said, fiber-rich foods are recommended for heart health. Soluble fiber prevents the absorption of cholesterol in the intestine, thus helping to eliminate more cholesterol and prevent its accumulation in the arteries.Among the foods richest in soluble fiber we have: oats, mallows, lentils, chickpeas, beans, pears, or apples.

Bananas are rich in potassium and magnesium
Eat foods rich in potassium and low in sodium: This type of food will help eliminate excess body water, reducing the level of sodium which will help lower blood pressure, another factor that can trigger angina.
Between the richest potassium foods we have: potatoes, bananas, tomatoes, peaches or grapes.

Tinned food will have to be avoided, either of vegetal or animal origin, due to its high sodium content.
Brown seaweeds: Due to its high content of fibers (laminar, alginates, fucans and cellulose), brown algae such as kombu, cochayuyo, wakame or arame, help to reduce cholesterol levels, when consumed regularly and accompanied by a diet for cholesterol. Fucans are beneficial for the heart by preventing the formation of thrombi. This type of fiber is not found in terrestrial vegetables, it is exclusive to brown algae.
Lose weight to improve cardiovascular health
People who are overweight or obese (excess body fat) should lose weight to improve their cardiovascular health. For this purpose, foods that favor the reduction of body weight should be chosen and those factors that predispose to weight gain should be avoided or controlled, such as junk food (ultra-processed) and the obesogenic environment.
Losing weight should be a natural consequence of a healthy diet and lifestyle, not a goal of a specific diet. Miracle diets, fasts and strict weight loss plans are not beneficial for health and are not recommended.
The best thing is that the loss of fat mass is a gradual and progressive process over time. Losing many kilos in a short time will probably produce anxiety for food and a subsequent rebound effect (recovery of lost kilos).
Choose foods that promote body weight reduction
So, besides avoiding greasy food animals as mentioned above, we have to minimize bakery foods, that are rich in refined sugars and animal fats, and also raise cholesterol and contribute to weight gain.
In its place, it is best to eat other more satiating foods because, in addition to providing calories, they offer us vitamins, minerals and other components necessary for good health.
Among these we mention the carbohydrates obtained from cereals or their derivatives (rice, oats, wheat, bread, pasta, oatmeal, etc.) and legumes (beans, etc.)
We must not forget the importance of vegetables, that contain very little calories, and fruit that provides easily assimilated sugars and a high water content that promotes its lightness, and all the wealth of vitamins, minerals and phytochemicals highly needed to prevent the occurrence of many diseases
(See complete study on this food group)
Superfoods for heart health
There are a number of foods that should be eaten regularly because they protect the heart. Between them we have:
Foods rich in vitamin C: It has been proven how the ingestion of Vitamin C helps to reduce hypertension and prevents the risk of vascular diseases. The frequent appearance of bruises may be due to small capillaries that break. It is not very clear if it reduces the cholesterol level. There are studies that show that if you do it while others even show that you can increase it.
Foods rich in folate: It is believed that folate helps fight atherosclerosis by reducing homocysteine, an element that damages the walls of the arteries. Folate facilitates circulation by preventing the occurrence of thrombi that are responsible for many heart attacks and other heart problems.
Eating foods rich in folate is a good way to take care of the health of the heart . These include the group of cabbages (cabbage, cauliflower, Brussels sprouts) and other vegetables such as beets, spinach, sweet potatoes, asparagus, beans or chickpeas.
Foods rich in antioxidants: Antioxidants neutralize the negative effects that free radicals can exert on the heart and arteries. They are foods with antioxidant properties particularly interesting to prevent heart disease carrots, apples, parsley or cabbage.
FOODS THAT CAN HARM THE HEART
Junk food for the heart
There are some foods that should be avoided or reduced in order to keep your heart healthy. This is the case of saturated fats, sugared and salty food. (More information)


More information on the heart and its natural treatment.
This article was endorsed by
Elisenda Carballido
- Dietitian nutritionist. Postgraduate in Phytotherapy and master in Nutrition and Metabolism.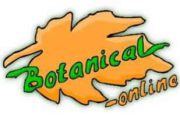 Written by
Editorial
Botanical-online team in charge of content writing